Select a team
Internationals

Domestic

IPL
Learn to laugh, Kevin
Bumble says KP is an all-time great and can return for England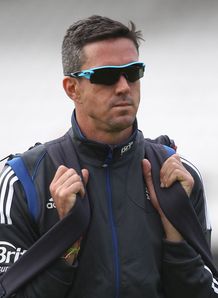 There is still a lot of work to be done if he is to integrate himself back into the England dressing room - but you don't play cricket in a dressing room.
Bumble
Quotes of the week
Related links
News
I was listening to Sir Michael Caine being interviewed by David Frost on the radio on the way home from Edgbaston.
I was intrigued when Caine defined his idea of "star quality". He suggested that, in the movie world, all of the great stars have been able to laugh at themselves. That applies to life as well; don't take yourself too seriously.
I wonder if Kevin Pietersen was listening?
I say that in the context of the KP Genius parody account on Twitter, which was - in my view - very affectionate towards him. I've not met one person who felt it was offensive or in bad taste. It was great fun and Kevin could have turned that around to his advantage and laughed at himself. He could even have fed the lines!
I will front up and say that I was behind the DavidGower7 account and I was involved in the Alec Stewart 'The Gaffer' account. Both people concerned thought it was hilarious!
But the KP Genius account became part of the negative situation between Pietersen and the rest of the players. I just think that if he'd been able to laugh at himself it would have endeared him to his team-mates and to the general public.
He obviously knows he polarises opinion. People seem to like him or dislike him, but the fact is he is an all-time, world-class performer.
I was at a Q&A with a former Ashes-winning captain last week and we both said Pietersen is the greatest talent that we've ever seen. Ever!
So Kevin, relax son!
I still think Kevin himself can sort this situation out. It's pretty obvious from the fact the ECB have delayed their squad announcement until next week that they are waiting for more developments and I think there's a chance he will be included for India.
There is still a lot of work to be done if he is to integrate himself back into the England dressing room - but you don't play cricket in a dressing room.
There have been many teams that I've been associated with where people didn't get on or spend time together, but they still managed to do the job.
Look at Manchester United in the late nineties. Allegedly, there was a massive clash of personality between Teddy Sheringham and Andrew Cole, but they still won the treble.
The Pietersen issue is more complicated because of the alleged texts about members of his team sent during the heat of battle.
One or two have mentioned comments that James Anderson has made about Michael Vaughan, Nasser Hussain and Andrew Flintoff in his book, but they're not in the dressing room. They've finished playing and it's totally different.
I just hope Kevin does what he needs to do and forces it through. Sort it out, lad!
Gr-eight expectations
My domestic season has finished now and it's a quick turnaround before I fly out to Sri Lanka on Monday. I love it out there, but I must admit it's too hot for me. I'm a Brit and I don't do heat! I prefer things a little bit fresh.
I'm really looking forward to the cricket though. We're going to see the best players in the best competition. Eight teams can win it and all of them will fancy it, too.
All of the teams have dangerous players - and you only have to look at New Zealand, who've just beat India, for an example of that.
It's about who performs on the day, but I'll have a "modest consideration" on Sri Lanka and the West Indies. And if England play as they did at Edgbaston they will have a chance.
They were terrible in the first t20 against South Africa, but on Wednesday night they went out and expressed themselves without getting too tied up with theory. As the fantastic Virender Sehwag would say: "See ball, hit ball."
I can't really see any weaknesses in the England team except one. Kevin Pietersen isn't there. England would be a better team with him in it. For now they need to get on with it, but I hope Pietersen does what he needs to do in the next few days.
Sky Bet Odds:
Click Here for Your Free Bet
Comments (5)
Graham Littlewood says...
Dear David, Very interested in the feature on amateur cricket clubs, good viewing.I am presently the Chairman of Norfolk County Cricket Club who play in the Minor Counties. We have a three week Festival in which we play 3 Championship matches, tents all round the ground and well supported. We would love it if you could feature this event next summer on SKy, I am sure that it would also be very good TV and be a good advert for M/ Counties. Through Vicky Worsick I got you to come to our dinner at Thornham nr Rochdale many years ago, Comedian Wandering Walter !!! a great night. Should be grateful if you could pass this e mail to the appropriate department. I know you like Norfolk !!! thanking you , Graham Littlewood
Posted 16:02 16th September 2012
Ray Kemp says...
More like "Get in Touch with the Real World Kevin!". In any other profession, KP's alleged actions would have incurred instant permanent dismissal. Rightly so.
Posted 11:03 14th September 2012
Jo Publik says...
This whole episode will be the real making of KP...I beleive he will come out of it a better man. And will go on to be an even better cricketer.
Posted 08:16 14th September 2012
Vikram Raj says...
If only this were a physical thing like a hand or leg that everyone was born with. If you know a individual in your team who takes a joke personally for more than a year, you ought to respect that and not go about the Swanny, Cookie, Straussy, Trotty, Ducky, Doggie way. You might be trying to project a teenager-like behavior by joking about KP with your 'hilarious' tweets, and you expect this behavior to be 'obvious', but you do not accept that it is obvious that you are doing this out of jealousy because KP earned a fortune while the Swanny-Broady-Andersony triumvirate found no takers at the auction? Color me stupid, but I don't accept that.
Posted 17:04 13th September 2012
Sam Walker says...
Yeah I totally agree Bumble, spot on!
Posted 14:22 13th September 2012