The 12th Southerness; chosen by Andrew Coltart
Last Updated: 29/11/13 12:13pm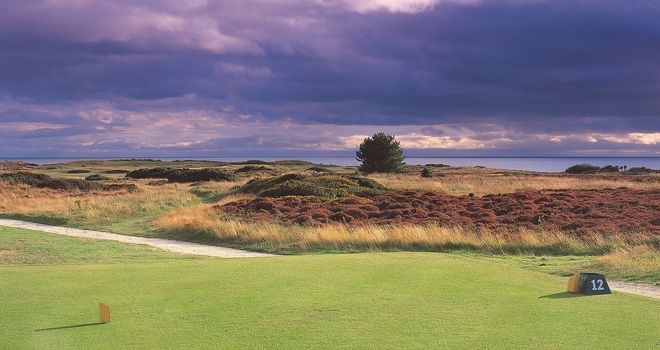 The 12th Tee, Southerness Golf Course
null
"Southerness is a classic links gem with the mountains as the backdrop. It's a teasingly treacherous card wrecker of 421yards which dog legs slightly left to right. A couple of well-placed bunkers demand a precise tee shot, while the green is safely guarded by bunkers on the right, and a pond and out of bounds lurks just off the back of the green in the shape of the glorious shifting sands of The Solway Firth. A beauty. Go play it!"
Andrew
The course
Southerness Golf Course, the most southerly golf course in Scotland, is regularly featured in Golf Monthly as one of the top 100 courses in Britain and Ireland. It is the first golf course designed by Philip Mackenzie Ross (the very man who rebuilt Turnberry after it became an airfield during World War II), whose aim "to do nothing that would erode the natural beauty and character of this tract of wild land by the sea" was certainly accomplished. This largely undiscovered gem is the finest example of traditional golf, with its spectacular views of the Solway Coast and the Galloway Hills to the west.
This 18-hole golf course, and its clubhouse, have been through many evolutions and are enjoyed by both high and low handicappers alike.
The hole
The 12th hole is generally regarded as Southerness' signature hole. This is a 421 yard par four that calls for accuracy and length off the tee due to its left to right dog leg and fairway bunkers. Hit it well and you will have a reasonable chance of securing an excellent par, or a bogey at worst, miss it, and all sorts of problems can await. Once you've negotiated the drive (and split the fairway!), the hole then opens out to a view of the green, protected by bunkers on the right, a pond to the left, a large mound guarding front left entry, and the beach ten yards behind the green - a truly memorable hole.
Q: Do you agree with Andrew? Have your say on Facebook!.
Golf in Dumfries & Galloway
With over 200 miles of stunning coastline, Dumfries and Galloway boasts over 30 golf courses. For golfers, this Southern dame is a natural choice. As well as affordability and beautiful surroundings, it has, perhaps more importantly, a superb array of golf venues ranging from challenging links courses to parkland layouts.
The region also offers three intriguing golf trails, each with different experiences: the Tiger Trail, the Challenge Trail, and the Little Gems Trail.
The Tiger Trail centre's on the region's premier courses, including Southerness and Powfoot. With exceptional and more robust layouts, your game is really tested.
The second trail, the Challenge Trail, is a collection of memorable courses suited to the majority of golfers and has universal appeal; deriving from designers such as Willie Fernie and Ben Sayers. There is no shortage of quality here either with excellent courses like Wigtownshire County, Newton Stewart and Lochmaben.
The Little Gems Trail focuses on the region's 9-hole courses and offers real golfing pleasure, ideal for both families and those who are short of time. Solway Links, New Galloway, and Gatehouse of Fleet are all good fun and will keep you on your toes.
The Gateway to Golf Pass offers you great value golf in the region. You are able to choose between a 6-round pass and a 3-round pass while enjoying access to 26 participating courses.
19th hole and beyond
There is much more to discover in Dumfries & Galloway, revealing the regions connections to Scotland's National Bard, Robert Burns, plus galleries and museums which illustrate the naturally inspiring landscape and the wildlife that roams in it. From streams to summits and forests to shores, the landscape is naturally inspiring, influencing the region's history, culture, and everyday life.
Take the family on an exciting cycling adventure at the 7stanes Mountain biking centres. Glentrool and Kirroughtree are both fantastic areas with different graded trails and tracks suitable for all cyclists. Finish the evening gazing at the stars in the UK's first Dark Sky Park, one of only two in Europe.
Follow the River Nith, one of Scotland's great salmon rivers, and discover some of the finest eateries in the area, including one of Scotland's best romantic award-winning Hotels, Blackaddie Country House Hotel.
As you are in Scotland, enjoy some traditional Scottish classics. Learn more about the connections between Robert Burns and the town of Dumfries at the Robert Burns visitor centre before making your way upstairs to try some traditional Scottish Haggis at Hullabaloo.
Make sure you order our Dumfries & Galloway Golf guide to find out more.