Attack this day with an enthusiasm unknown to mankind - that's a Harbaugh family motto, and at least one of the coaching brothers who will fight out Sunday's Super Bowl looked that way as they lined up for a first-ever joint press conference.
The Harbaugh story really is a great one, they will play out their own family battle for supremacy in front of over 100 million people on Sunday - we're all invited to their own personal family feud, but they are keen to insist that it will not break their huge bond.
It was a great showcase of the two personalities of the Harbaughs, yes OK their teams may be similar in having hard-hitting defence and a huge family-type bond between their players, but they are very much their own men.
Ravens coach John, the older only by 15 months, came suited and booted to the press conference and led the answers to most of the questions and seemed altogether much more comfortable than his younger brother Jim.
The 49ers coach, the much better athlete of the two and a former NFL quarterback himself, looked edgy, far less relaxed, and came in his coaching uniform that he far prefers and you get the sense he was never going to be laughing and joking.
John has been a coach longer, maybe that helps, but Jim is just not loving all the media attention - "I concur" was his stock answer to the first few questions. When asked about the 'philosophical commonalities' between the two in their coaching styles, "I'd be hard pressed to spell philosophical commonalities." Was the only response - wouldn't we all though without spell check?
Family
The two clearly get on extremely well, their children both work for their brother on opposite sides of the country, and John has all week assumed the older brother role which he did again in taking the heat off Jim and controlling the press conference.
They have almost worked together before at Stanford - and Jim admitted he would work with or give a job to John should they ever be out of work, but given their respective records that's very hard to imagine right now.
John has done an amazing job with the Ravens, who probably should have made the Super Bowl last year and are always there or thereabouts, while Jim sparked the 49ers into life and he also could have made the Super Bowl in his first season last year - and made no mistake this time.
It must have been agony sitting so close to the Vince Lombardi trophy that one of them will hoist on Sunday, and the other will never be able to forget it either! But after being told by their mum Jackie 'always have each other's back' I'm sure they'll be ok. Although being fierce competitors make no mistake they both want to win - badly.
John admitted: "I can remember living and dying, along with the family on every snap Jim took in the NFL, that's how it is with family, we were just amazingly proud of Jim. And that'll never change."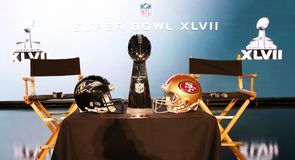 Commissioner
Also on Super Bowl Friday, commissioner Roger Goodell held his always well-attended media address, even though he was overshadowed by the brothers Harbaugh this year.
On the agenda was a possible increased presence in the UK with maybe three games or even the possible London franchise coming up again, you get the feeling the NFL would relish a team across the Atlantic but I personally just don't see how or why.
Two games will probably suffice, maybe three. The fan-base certainly is growing back home, but most of them have a team they follow and you just don't go changing your team, it's not the done thing, so maybe keeping it as a few opportunities for UK fans to get their live NFL fix will be the best thing all round.
Goodell also insisted he has been well received in New Orleans despite his part in the famous bounty scandal, which cost Saints head coach Sean Payton a year out of the game - who knows they could have been playing in a home Super Bowl had he been around?
Player safety is also a huge issue over here, as was the interest in next year's game already - seeing as it is a cold weather open air first in New York, and the relative success of that will be used to judge whether cities like Denver or Chicago (with improvements to Soldier Field) can follow in their footsteps.
Goodell also seemingly had no problem being served in New Orleans despite some bars and restaurants putting his picture up on a 'do not serve' list after the Saints saga. With a Friday and Saturday night in a jam-packed French Quarter to come there could be a few more of those going up before this Super Bowl is done...