Evander Holyfield admits he was desperate to avenge the infamous ear-bite from Mike Tyson.
The Real Deal was the victim of arguably boxing's most outrageous attack when he met Tyson in an immediate rematch at the MGM Grand, Las Vegas on June 28 1998.
Holyfield, the WBA world champion, had won the first clash with an 11th-round stoppage and looked like doing the same until the self-proclaimed Baddest Man on the Planet snapped.
Tyson bit off a piece of Holyfield's right ear and the fight was stopped, with the challenger disqualified and then confronted by police officers who had entered the ring.
The Real Deal did not try and retaliate but admitted only the fact that the incident went on so long and the police got involved meant he walked away without making Tyson pay.
"When Tyson bit my ear, I jumped up, I was so mad," Holyfield told Ringside Special.
"You've got to understand I'm from the ghetto, too, so you go back to what you were. What happens when someone does soemting to you? You come back and do it worse to him!
"And the next time they said 'fight', I was going to maul him. I was going to bite the daylights out of him!
"But it took so long, my cornerman said: 'Keep the mind on the fight' and I had to."
Disqualified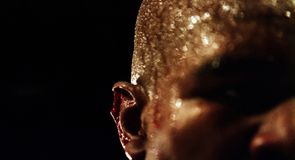 Holyfield also revealed that that ear-bite did not come as a huge suprise - to him at least.
The one time undisputed heavyweight champion of the world says a prophet had predicted that something bad would happen "around my facial area".
That, he said, is why Tyson didn't so much shock him, just disrupt the gameplan that meant he would not get involved in anything untoward.
And the irony continued as Holyfield also suggested that had he hit back and responded straight away, it could've been him that was not only disqualified but caused boxing to be banned.
"I had been warned already and if I was warned again...," he added.
"This is why I told the guy (cornerman) to remind me [not to get involved]. Now whatever had happened, they'd probably have just suspended boxing for ever.
"We had the two greatest fighters in there and ladies and gentleman, look what they did... they mauled each other! They beat each other up and the rest. They could've banned boxing if I had gone on and done what I wanted to do."