Brian Carney told Boots 'n' All that he's treating any talk of a new dawn at Bradford in the wake of Marc Green's takeover with "extreme caution".
Local businessman Green acquired the club, currently rock-bottom of the Super League table, after agreeing a fee and terms with the administrator and immediately gave his backing to head coach Francis Cummins.
The announcement comes eight weeks after the Bulls went into administration but Carney said that given all of the club's recent difficulties he'll reserve judgement on whether this is the start of a Bradford resurgence.
"False dawn is a very generous way of describing this," said the former Wigan and Warrington player.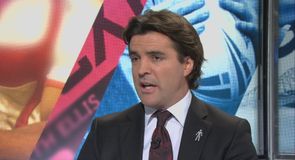 "Bradford is a tremendous club and a tremendously well-supported club. They get huge turnouts and they raised £½m after being told to please dip into their pockets; local businesses donated and ex-players donated jerseys; they flipped burgers and washed cars to raise £½m and that money has gone, it has disappeared.
"The well of goodwill at Bradford, I would imagine, has run dry. Those fans have had to hear that very same stuff trotted out three or four times – 'that it's a new dawn, this time we are going to put foundations in, this time we are going to move forward'.
Security
"I understand that we have to accept it again but it is with extreme caution that I do accept this. You now have a man, I am led to believe, who lent the previous ownership money. He now wants his money back. The club was unable to give him the money back so the club was placed into administration.
"If Marc Green lent money expecting it back and now he's landed with a rugby league club on his hands, first and foremost he'll want his money back. I don't know what his long-term plans are – we've yet to hear from him personally, whether or not he really wants to be involved in a rugby league club for a long time or he wants his money back, which is his right.
"He lent it to the club, they were unable to pay it back and I'm sure he wants security on that. I haven't heard from Marc Green so I will reserve judgement on this new dawn, this new future.
"It's fantastic that the club hasn't disappeared – I understand that – I want there to be a Bradford in Super League first and foremost – but I am going to reserve judgement because I heard this when Omar Khan came in, I heard this when the new management took over pre-Christmas and we're hearing it again for the third time in three months.
"That's a lot of times in a calendar year to hear the same story, the same message trotted out."
Roller-coaster
Fellow Boots guest Phil Clarke said that the fans – and the club – deserve stability after a so many years of angst and frustration.
"There are a hard-core of fans who will do anything to keep the club alive; it's like a religion for some people. They want to turn up and follow their side – they are fanatic about their club.
"What seems to have gone on at that club for the last five or six years is a tragedy. I'm just desperate for them to find some strong leadership that has some sensible business plan to make the numbers stack up and makes a rugby league club, in a salary-capped sport that gets a strong and passionate support base, work."
He added: "I hope the future's bright. I clearly remember being in Huddersfield in early 2006 when Bradford won the World Club Challenge for the last time. It was a great night.
"Stuart Fielden alone just looked a world-class player but sadly just a few months after that he left the club and it does seem as though they've staggered down in eight years of decline and disarray off the field.
"There have been false dawns before. If you go back to Easter in 2012 they had 20,000 people turn up at a game and they beat the Leeds Rhinos, who were a good side and went there very determined. Emotionally they've ridden this roller-coaster for a very long time."