The Cricket Writers on TV panel discussed whether a captaincy contingent, similar in style to Sri Lanka, would improve England's Test side.
Current Test captain Alastair Cook has come under increasing pressure to step down, as both captain and from the team, after poor batting displays and results, including a Test series defeat to Sri Lanka on the back of the Ashes whitewash against Australia.
Cook made only five runs in his first innings of the series against India at Trent Bridge in a match where runs have been fairly easy to come by, with 11th man James Anderson hitting 81 to put him ahead of opener Cook in the 2014 international Test runs tally.
Guardian cricket journalist, Andy Wilson, told CWOT that the ECB should take inspiration from Sri Lanka's captaincy style. As witnessed during their recent Test win over England, 25-year-old captain Angelo Mathews takes advice from former captain Mahela Jayawardene, who recommended Mathews for the captaincy in February 2013.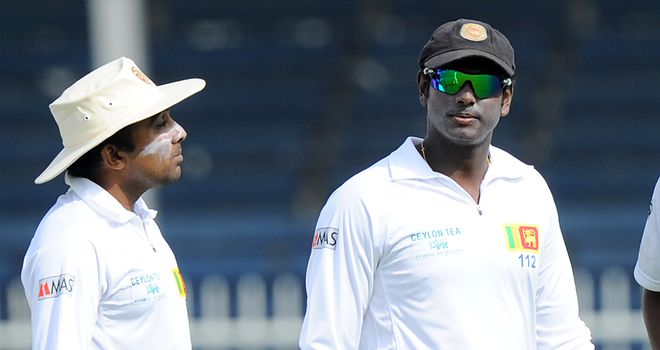 Wilson believes this democratic style of captaincy should be utilised for when Joe Root, the man hotly-tipped as a future England captain, takes the Test side forward, with Cook playing a major role as advisor and mentor..
"The model that has occurred to me this summer is Sri Lanka," said Wilson. "I really like the way that [Angelo] Matthews, as a young player, captains the team with two old heads to look after him, Jayawardene and [Kumar] Sangakkara and that's never happened to England with my knowledge. 
"People burn out, Strauss burns out and retires, Vaughan burns out and retires, Athers did as well.
"It would be lovely to have a position where a captain has a couple of old heads to help him. 
"There's your Root premise, he's not ready yet, but wouldn't it be lovely if Cook can survive for a couple of years and stay in the team and look after Root?
"It must be lovely for a young captain to have that support. It seems that we've not had those senior players to support a young captain."
Awkward
Michael Atherton, who joined the panel live from Trent Bridge, voiced his fears that this communal-style of captaincy can cause awkward situations, where the former captain struggles to find the plateau between advising and interfering.
"It can be a slightly awkward relationship because the former captain wants to leave the new captain to get on with the job - that's certainly how I felt," said Atherton, who was thrust in to the captaincy at 25 years of age.
"In England in recent years, when the captain has stepped down he's carried on playing – which is an un-Australian thing. I know Ricky Ponting broke the mould, but generally Australians, when they've got rid of their captains, have said: 'thank you very much'.
"I carried on playing, Strauss didn't but Vaughn tried to for a while, Gooch carried on playing, and it's a slightly awkward relationship because you know you've got the experience and you want to help, but you don't want to be seen to be interfering, you want leave the new guy to get on with the job.
"My view, with Nasser, for example, was always: 'I'm here to help, I'm always happy to talk and advise but I'm not going to come to you and in the field I'm certainly not going to be seen to be waving my arms around and getting involved very much.'"
Do you think this style of captaincy would suit England? And will Joe Root be a future England captain? Get involved with the discussion and leave your comments below.