Dropped points for leaders Burnley
ANDY SAYS: Bournemouth came with a game plan as Eddie Howe returned to his old club and defended in numbers. They were certainly stretched but they played on the counterattack and tried to pinch the opening goal of the game and the gameplan worked perfectly. Burnley are a quality side with a lot of character and they created plenty of chances.
They finally managed to break Bournemouth down, but despite it only being a draw they've got to keep positive after their strong start. Sean Dyche has been able to pick his strongest XI and that is why they are top. They have a great belief and are deservedly top of the table. Other teams do have bigger squads so it's important they keep their players fit - if they can do that they will have a chance of going up.
Barton shines in QPR draw
ANDY SAYS: Many people questioned whether Joey Barton wanted to play at QPR at the beginning of the season and he's been very impressive. He wants to play and has a big effect. If he sticks to his guns then QPR really do have a very good midfield. While Reading keeper Alex McCarthy has done well after a very rough patch. He's a very good goalkeeper and made some very difficult saves look very easy against QPR. He moves his feet very quickly and can make a variety of saves and he kept Reading in the game at the weekend. QPR do have the best squad and they aren't the most glamorous but they get the job done. It's all about getting back into the Premier League for them and I think they will.
Rampant Forest at luckless Leicester
ANDY SAYS: Leicester have had a brilliant start to the season and they had plenty of chances against Forest. They just kept passing them up and if you don't put them in the net then it will come back to bite you. They've got some great defenders and Forest put bodies on the line and it was just one of those days. They went to Watford and were devastating but Nigel Pearson's staying relaxed and his players seem determined to get the job done. I've always been very impressed with Forest. Defensively they are strong and they've got strikers who score goals and I see them as a top-6 side. Billy Davies has given them a kick up the backside. He gives them absolutely everything and expects his players to do the same.
Wigan riding high on all fronts
ANDY SAYS: Demands in the Championship are huge and playing extra games in Europe usually means you fall flat but that's not the case with Wigan. I fancy them to push on and I think their European challenges will help them. Wigan have good forward players but they do have a solid defence. As the season progresses I think it will work out nicely for them. Yeovil, though, knew it was going to be a tough season as the promoted team and they needed everything to work for them. It's still early stages and it can turn round but it's all about adapting to the challenges of the Championship.
Star men in the Championship
ANDY SAYS: There are four or five similar players who are up there but for impact players who win games then it has to be Blackpool's Tom Ince. He's the stand-out performer and Premier League clubs have been looking at him. He's the sort of player that can turn a game on its head. Plus there's Ross McCormack at Leeds. He's an all-round top quality player and will play in a variety of positions. He's a great team player. He's played on the wing but he makes most impact in front of goal.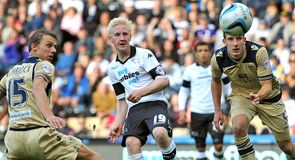 There is also Will Hughes. He will be in the Premier League eventually. Whether it's with Derby we shall have to wait and see. He's got everything, he's fabulous on the ball, has great ability and balance and huge belief. His movement off the ball is also excellent and he's got a great appreciation of what's going around him. That is why quite a few Premier League teams are keeping an eye on him.