Alan Smith says Arsenal face an 'incredibly difficult' task against Bayern Munich on Wednesday night.
The Gunners host the reigning Champions League title-holders and Bundesliga leaders at the Emirates live on Sky this week in the first of their two-leg knockout round contest.
The fixture comes midway through a mixed month for the North London side, who have slipped from the Premier League summit after a 5-1 thrashing by Liverpool but also recorded an FA Cup win over the same opponents and drawn with Manchester United in February.
However, ex-Arsenal striker Smith says his former club must be at their absolute best when they tackle Pep Guardiola's side.
"You've got to fear for Arsenal against what is probably the best team in Europe," he told The Footballers' Football Show. "Bayern just look formidable and without a weakness.
"Arsenal have got to do everything right and particularly defensively they have to be spot on. They've got a chance but only a very slim chance over two legs. It's going to be incredibly difficult for them."
Smith says key to Arsenal's fortunes will be the work of Jack Wilshere and Mathieu Flamini in the midfield holding roles.
Given Bayern's wealth of attacking talent, which features the likes of Arjen Robben, Thomas Muller and Mario Mandzukic, keeping the visitors at bay on Wednesday night - and having something to defend at the Allianz Arena later this month - will be crucial to Arsenal's chances of progressing, says Smith.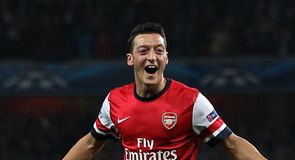 "Arsenal have to protect that back four like their lives depend on it," he said.
"Arsene Wenger hasn't got too many choices in the middle of the park with Aaron Ramsey injured and Mikel Arteta suspended. Flamini came in against Liverpool on Sunday and did a good job and should play. He rouses them, he's got energy and he's a good talker.
"Jack Wilshere, meanwhile, will play next to him. He's not a natural holding player - he likes to run with the ball and get forward - so he'll have to be disciplined in his movement. Defensively those two have a big responsibility in shutting down the gaps in front of the back four."
Confidence
Going forward, Wenger will hope big money summer signing Mesut Ozil can put his recent poor form behind him to deliver.
However, former Barcelona assistant coach Henk Ten Cate told The Footballers' Football Show a big-game performance from the Germany international was far from guaranteed.
Asked whether Ozil performed in the crunch matches in La Liga during his stint with Real Madrid, Ten Cate said: "Sometimes yes, sometimes no.
"He didn't really feel the confidence all the time [at Madrid] because he was always substituted.
"He's a fantastic player but a very sensitive player as well. He's a player who needs a lot of confidence from his manager and then he will pay you back. I think Arsene Wenger has given him a lot of confidence.
"But sometimes [he] misses this killer instinct, this 'I want to win no matter what', this is what he doesn't have."
Absent
While Ozil's form has drawn plenty of scrutiny in recent weeks, former Liverpool Champions League-winning midfielder Dietmar Hamann says Arsenal's biggest problem is the absence of Wales ace Aaron Ramsey.
The 23-year-old has bagged 13 goals in all competitions this term but has been out of action since Boxing Day due to a thigh problem.
And Hamann says Arsenal will miss the influence of Ramsey - and fellow injury victim Theo Walcott - on Wednesday.
"Ozil made a big impact when he came to the club but the difference was maybe Ramsey [at the start of this season]," said Hamann.
"With the goals he scored, he decided games. He's in double figures but he's missed the last few weeks. The two most influential players in Ramsey and Walcott are missing, and it might be a step too far without these two."