Sky Sports Living for Sport is using sport stars and skills to improve the lives of thousands of young people.
We've been working with the Youth Sport Trust for the last ten years to deliver this free initiative which started off as a way of improving behaviour and grew into something from which anyone or any group could benefit.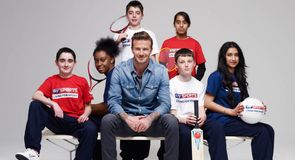 Today Sky Sports Living for Sport is open to all secondary schools in the UK and Ireland, motivating and inspiring young people through participation in sport. We give teachers access to planning tools and resources to help them deliver a sports project, and what's more we give every school two free visits from one of our inspirational Athlete Mentors.
2012/13 was the tenth year of the scheme, with over one third of all UK secondary schools and over 30,000 students taking part. We now have over 80 Athlete Mentors visiting schools, and this year our Ambassadors Jessica Ennis-Hill and Darren Campbell were joined by Katie Taylor and David Beckham.
When he joined the initiative, David said: "I've always been passionate about the importance of sport in the lives of young people. It's not all about winning; just getting involved in sport gives you confidence and skills for life. I was lucky to have some amazing role models when I was younger, and I'm excited about the opportunity to work with Sky to pass on some of that knowledge to the next generation."
To find out more about Sky Sports Living for Sport and to get your school involved visit www.skysports.com/livingforsport