Gareth Bale could be set for a world record transfer to Real Madrid, but Alex McLeish told Soccer Extra he nearly poached the Welsh ace from Spurs when he was manager of Birmingham.
Bale endured a difficult start to life at Tottenham after making the move from Southampton in 2007, famously going 23 games without a win for the White Hart Lane club.
However, since then he has flourished and his outstanding 2012/13 campaign, which included 21 goals and led to him scooping the PFA Player of the Year prize, drew the attention of Real Madrid.
But things could have been very different for the 24-year-old had McLeish been able to wrap up a move for the left-footer in the 2009/10 season.
Contrary to some rumours, Blues weren't on the verge of a £3m deal for Bale, but were keen on securing a loan deal, with the view of securing his services on a permanent basis in the future.
"Signing him for £3m was probably further down the line, but we did try to get him on loan," said McLeish.
"At that time he was struggling at Spurs as a left-back. We thought maybe we could take the pressure off with him coming to a smaller club, help him find his feet and if he did really well Harry [Redknapp, then Spurs boss] could take him back or we could put in a cheeky bid."
Scuppered
However, McLeish's ambitions of landing the future Real Madrid target were scuppered when Bale, given a chance in a more advanced role due to injuries, netted a brace.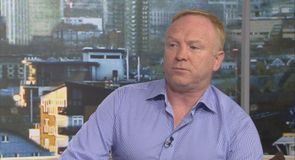 "If my memory serves me right, Harry needed him that particular week for a midweek game and he said 'I need to take him, I've got a lot of injuries'.
"He played him further forward and he got a couple of goals. The next day I said to him 'I take it I should forget about that now?' And the rest was history.
"He came back into the team in a forward position and they finally got a victory with him in the team."
Ambition
The former Rangers, Scotland and Aston Villa boss is currently without a club after leaving Nottingham Forest a little over a month after taking the reins in December 2012 but is now eager to get back on the touchline as soon as possible.
"I've kept my finger on the pulse, doing shows such as this, going to see games," said McLeish, who has scooped eight major honours as a manager.
"Hopefully there's an opportunity somewhere. Seeing the likes of Malky Mackay and Sam Allardyce parading the dugouts gives you that itch again.
"I've been in England for five years and I feel I've had more success than failure but I feel like I have unfinished business."