Former England manager Terry Venables went for youth and experience when he picked his starting XI on Goals on Sunday.
Venables knows exactly what is going through the mind of current boss Roy Hodgson, as he led England to the semi-finals of the European Championships back in 1996.
With the World Cup in Brazil fast approaching England have three warm-up games for Hodgson to pick his preferred line-up for their opening fixture against Italy on June 14.
It's a selection headache no-one envies, but Venables has had a go, believing building a solid foundation is the key to success this summer.
"We've got three games yet, and I'd just like to see that team to start with," he said. "There are some young guys and you've got what you need at the back.
Stability
"You've got to have stability - Hart and his back four don't give any goals away. We all know then, if you score one goal, you've got a chance of winning. If we let goals in, they've got to work much harder [up front] to get three instead of one.
Venables has gone for a midfield three as Steven Gerrard and Frank Lampard play together alongside Jordan Henderson, and he believes the experience shared between the two England veterans will help dispel the myth they do not fit in the same side.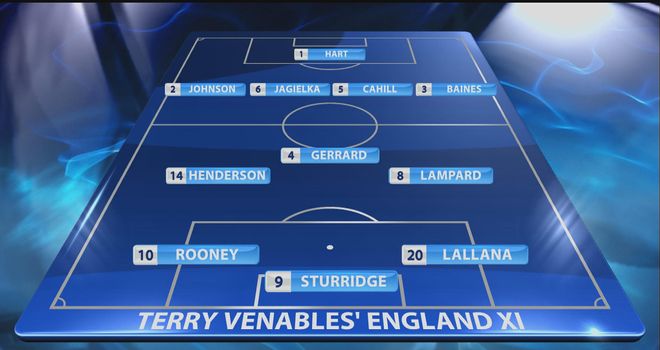 "A lot of the time they played two in the middle, and played well together," he said. "They're good players. Henderson has done well - we might be able to get some competition in there.
"You've got experience in there with Gerrard and Lampard, and I feel they're getting on better now when playing."
Venables has gone for an attacking trio of Wayne Rooney, Daniel Sturridge and Adam Lallana, who has been a revelation in the Premier League since coming up with Southampton.
The former England boss expects Hodgson to give the attacking players the freedom to switch positions, and also hailed the quality and depth of attacking they have at their disposal.
Confidence
"Lallana I really like, and we've got other people like Barkley who are excellent," he said. "A lot of people are saying this - he does look a lot like Gazza was, and he has the confidence too. That's what we've got to have - real self-confidence and that you believe.
"They can go where they want [up front] and that's what Roy will be doing with whoever it is in his training sessions.
"Recently he's been playing 4-3-3, and he might change it during the game where he'll bring Milner on to strengthen. The bench is interesting, and I think it's a good bench - that's going to be really positive for us."
The heartache of four years ago will be all-too easy to remember for England fans, as they crashed out in the second round at the hands of Germany.
But confidence is high ahead of this year's tournament, especially with a fresh-looking squad, and Venables thinks Hodgson should be aiming far in Brazil and beyond.
"I think the England team can do well," he said. "We've got a change of players in there - the next three games will give him some idea of what he wants to do.
"I think they should be able to get to the quarter-finals and I still think they should be aiming for better. But that may come later, especially as we've got some good young players now."