Week three of the #RevistaPredictor saw some strong scoring by a couple of our experts, and one in particular who continues to go from strength to strength...
Remember it's one point for getting the match result right (win, lose or draw), then another three points for the exact correct score and six points for first goal-scorer.
Who's leading the way after the third round of matches in La Liga? David Garrido reveals all...
Barcelona 5-0 Espanyol
Thankfully, every pundit picked up points here by predicting a Barcelona win, although no one got the exact scoreline. Still, very useful ground made up by Jon Driscoll and Kevin Keatings, who got Lionel Messi as first goalscorer - there's always a chance when we select a Barca game, especially with the form that the Argentine is in. So a fairly easy one to start off with, the Predictor was clearly in generous mood...
Deportivo La Coruna 2-4 Real Sociedad
This second match was where Rob Palmer took over again - Juanmi was indeed the first goalscorer in the game as Real Sociedad started brilliantly, and even though I was sat on correct outcome and scoreline for a bit at 2-2, the visitors' late goals put paid to my hopes of any points whatsoever. Once again, Mssrs Driscoll and Keatings added to their tally by forecasting that La Real were going to triumph at El Riazor.
Villarreal 3-1 Real Betis
The only person not to pick up points from our third chosen game was muggins here, whereas Rob was at it again - another six points for saying Sergio Leon would get the first goal. Phillips and Driscoll got another single point for Villarreal's win, but Keatings earned four points for getting the exact score too.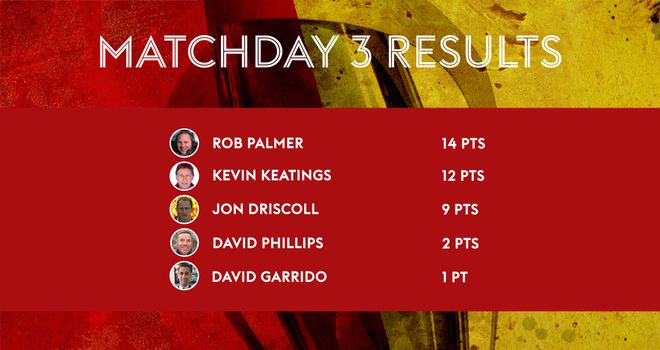 It means we've got a clear leader and two more pundits in double figures, so the commentators are showing the way already, but the Davids have plenty of work to do.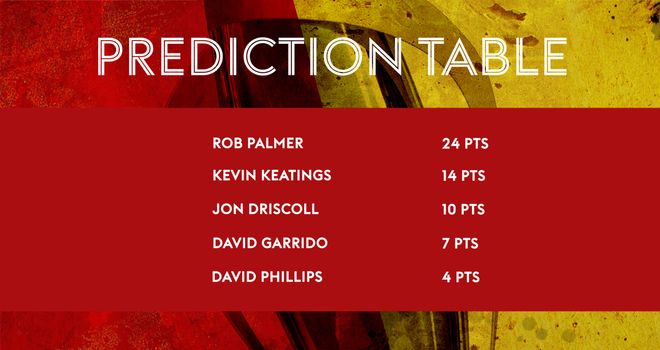 It was another week where the Spanish football aficionados outdid most of the experts, such as the following:
@Campbell6_2 and @IamGeorgeJones - 14 points, as they got two first goal-scorers right, and two match outcomes correct as well
@RaulMcginty & @TomNewland08 -13 points, for getting Barcelona's match outcome right, and two correct first scorers in Messi and Sergio Leon
But a special shoutout to Sam Leveridge (@samleveridge) who got ALL THREE FIRST GOAL-SCORERS CORRECT! Messi, Juanmi and Sergio Leon gave him 18 points, plus the correct outcomes at the Camp Nou and El Riazor means a mammoth 20 points, and the highest matchday score so far. Brilliantly done, Sam.
Right, I need to go and get my act together, otherwise it'll be Phillips and I who will be the Osasuna and Granada of 2017-18 - in the relegation zone for the entire season.
See you next Friday for more matchday four of #RevistaPredictor.