Valencia President Amadeo Salvo joined Scott Minto and Guillem Balague on Revista to discuss the club's present, past and future after Los Che's topsy-turvy start in La Liga, including three straight losses followed by three consecutive wins.
The turbulent results aren't the only issues Salvo is facing; the club is in serious financial difficulties and has suffered player unrest under new manager Miroslav Djukic - a former Valencia legend who guided them to two Champions League finals as a player.
Salvo on Valencia's poor start to the season: Valencia is one of the biggest clubs in the history of European football. Now it is in a very difficult situation, not just now, but for the last four, five or six years, but I think we've changed the model and we have started a project and I think Valencia has an excellent future in the next couple of years, because it's a great team and is a great in the history of football.
Before last Sunday (they beat Rayo 1-0) we were in a very bad situation. We created a good atmosphere with the fans, we went to Sevilla, three days later went to Granada and Saturday we went to Rayo - that means in six days we changed the theoretical last position we were in this season - to being close to European football and close to Champions League.
I agree that we are not playing well. At the moment we have played seven matches and we haven't played well in any game. We need to improve, everybody knows that - the players, the coach - they are working hard to improve their overall game, but sometimes when you are down in the table you need fortune and good luck - you need something to change that situation. I know that they are working very hard and I'm sure that Valencia will come to play good football because Valencia have always played good football.
Miroslav Djukic: It was never right that Djukic would have lost his job if we would have lost against Sevilla. I repeat here tonight, Miroslav Djukic started the season and the league this year and he will finish the season.
There was a lot of pressure with the media and with the fans because after the game against Swansea the situation was really bad. There was a lot of pressure, but on Friday morning I spoke with Djukic to say, 'OK Mr, don't worry you will continue, you will finish the season with Valencia.'
Valencia are sleeping giants - it's difficult to look for somebody with this ambition and with this feeling for your club, we are absolutely sure that Djukic will be our coach for a long time. I think the game against Espanyol was very bad for us, he changed too many things which made a bad atmosphere in the dressing room - but I think that now fortunately it's changed.
On former coach Ernesto Valverde's departure from the club: Manuel Llorente (the previous club president) left Valencia in April, but he stayed until June. And Valverde was the coach in a very turbulent situation. I think that he was waiting for the new President. At that time in April/May, I didn't know if I would be the new president or not and I think that he preferred to look for another a team. I tried personally to keep hold of him as the main shareholder and I tried to convince him and as the vice-president I tried to convince him to stay at Valencia.
On defender Adil Rami's suspension from the club: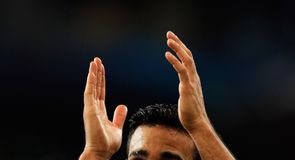 Immediately after we knew that Rami had made the declarations on the radio programme, I met personally with the coach and we talked about him. We left Rami at his home and flew back to Valencia. Not only Djukic, not only the President, but Valencia as a club cannot permit that to anyone. It is very typical for players to speak about the coach because it's 'I don't play etc..' But you cannot speak bad about your colleagues. Valencia is not going to permit that attitude and this is the reason we open the suspension and Rami is now for sale.
Money problems: Our net debt is 275million euros. If you compare that with other clubs in Spain or Europe it's probably nothing. But our incomes are very low in accordance to the history of Valencia. The only solution that we have is to refinance this debt - 90 per cent of the 275 million euro debt - we need to pay this back in one year which is impossible. We need to refinance with the bank and we need to refinance to 18 years, which we are close to agreeing to.
There is not a possibility Valencia will go bankrupt soon. Of course if we don't refinance the debt to 15, 18 or 20 years we cannot pay that debt in one year. We won't be bankrupt though because of our assets, we have two stadiums, we have properties that the value of them is bigger than that debt.
The problem is that we have a big debt and when you have a big debt you don't have access to credit from the banks. Now we have invested 130million euros in the Neuvo Mestalla stadium, the budget left is now 160million euros - this is not possible. Valencia cannot finish the stadium if we have to pay that, we are checking all the costings with the architects, with the constructors and our budget will be 100million maximum and we are looking for an investor or partner that could come with us to take profit from the stadium because it will be very important that it is built for Valencia and the city of Valencia.
The sale of Soldado: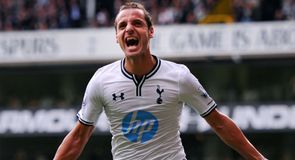 There was another team that made a bid for him - Zenit St Petersburg from Russia - but the offer was not very good. The second offer came from Tottenham, they wanted him and they got him. Our priority was not to sell Roberto Soldado, we wanted to sell four players to correct the cash flow. Suddenly the offer came for Soldado, we were informed of the contract that he was signing and the agents. The only decision to agree was the payment and that was agreed quickly with Daniel Levy. Soldado wanted to leave Valencia, we didn't want to sell Soldado.
Watch Revista every Tuesday at 6pm, on Sky Sports 1 HD