Paul Clement's rise through the coaching ranks has been remarkable.
Having never played professional football, the son of QPR legend Dave Clement, studied for his coaching badges whilst working as a PE teacher in his early-20s.
However, his aptitude for coaching shone through and he progressed from working with Fulham's academy to training Chelsea's rising stars.
And it was whilst with the Stamford Bridge club Clement came in contact with Carlo Ancelotti.
The esteemed Italian manager was impressed with Clement's work on the training ground and, after working with him at Chelsea and Paris St-Germain, promoted him to the illustrious role of assistant manager at Real Madrid.
Here, Clement tells Revista about working with the former AC Milan and Juventus boss, life at Real Madrid, and their plans for developing the star-studded Los Blancos squad...
On Carlo Ancelotti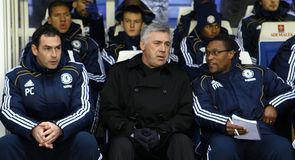 "During my time at Chelsea he came in and said 'I like the things you've been doing, your way with the players and the exercises you do. I think it would be a good experience for you to work with me'. And that's where it started.
"Carlo's a very active coach, a modern, technical coach, who likes to be in his boots and in his tracksuit on the field doing the work. And I'll support him in doing that and we'll lead certain exercises from time to time.
"It's a role I've become comfortable in and enjoy immensely."
On life at Real Madrid
"It's more than a club, it's an institution. You really feel that. When I came to sign here with Carlo it was incredible. The intensity of the place, the interest in the place... I'm still learning about that now.
"We know we can play better and we are trying to find the right blend of players and system. We're not there yet but we're working at it.
"We want to improve quality of play with the possession, the control and we need to improve our defending, no question about it. We've been going behind too often and then we're chasing games.
"We need a nice, solid defending formation, where people are very clear about their roles and then, with the quality of players we have we are always going to score goals. If we get the defending right we're going to improve no question.
"Hopefully it won't be too long before we find that system and blend."
On Gareth Bale's fitness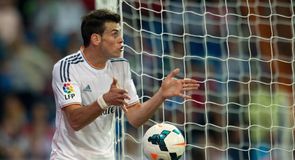 "He came to us and he was not in great shape physically, which was understandable. He picked up a little more training and then we put him into what we thought was the next step - 60 minutes - but who knows whether that was the right or wrong thing to do.
"He's been doing double sessions and is looking good now, though. We've got some really big games coming up and we want to make sure he's right for Juventus and Barcelona."
On Cristiano Ronaldo's best role
"In my opinion he has the quality to play right or left or through the middle.
"The coach had the idea to play him as a striker. I think Cristiano, because of his upbringing and education, is more comfortable on the left side and when you see him as a striker he does tend to drift into that role.
"We'll have to see how things progress there because with Gareth coming back fit there are a number of different options."
On Lionel Messi and El Clasico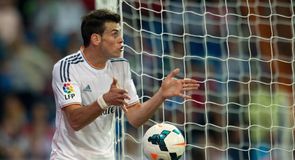 "Messi is a fantastic player, no question about it. He's one of the most fantastic players that's ever played the game.
"The team have to defend really well in the Nou Camp and they have to have believe they can score. We have so many attacking threats - whether it be through Cristiano or Isco or Karim Benzema or goals coming from midfield or set plays - and if we can keep things tight we'll have a good chance.
"We're going there with the aim to win in the Nou Camp, no question."
Watch El Clasico, live on Sky Sports 2 HD from 5.15pm on Saturday.