Gaizka Mendieta told Tueday night's Revista that it will be Atletico, not Real that really challenge Barca in La Liga this season.
Atletico are second in the table at present, having only lost one game, and the former Barcelona midfielder believes their good form is due to a vast improvement to their squad from last season.
He said: "The 5-0 win against Real Betis was very important for Atletico to keep track with Barcelona and keep a distance from Real Madrid.
"They are defiantly one of the clubs challenging for the title this season and are a team that plays with their heart. David Villa seems to be coming back and scoring goals, which is fantastic for Atletico Madrid to have another alongside their fantastic striker Diego Costa. For me they're the team that are going to challenge Barcelona for the title this season.
"I think the squad is what's different this year, they signed well. Last season they had to play with the same 11/12 players for most of the season and couldn't get to the end of the season with enough strength to challenge for the title."
Talent
Costa - who has signalled his intentions to play for Spain rather than his country, Brazil - is the leading goal scorer in La Liga with eleven goals so far and has struck up a promising partnership with Spain's record goal scorer David Villa. Watch the Revista team discuss the form of these two hit men in the video on the right.
Young Prospect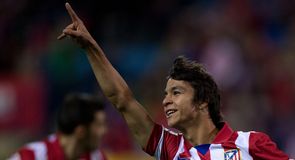 Atletico are no strangers to producing talent; Fernando Torres, Sergio Aguero and Radamel Falcao were all christened superstars at the capital city club. And 18-year-old Oliver Torres (known as Oliver) is the next player destined for football stardom, according to team-mate Villa. But Guillem Balague told Revista that the young midfielder needs to adapt his game to fit with manager Diego Simeone's style of play.
"It was a good night for two guys that share the same room - David Villa and Oliver Torres - and would have built the confidence after having a bad time in pre-season," said Balague.
"Villa hadn't score since September, now he's scored. Oliver played against Barcelona in the Super Cup and he lost balls when he was one-on-ones. He needed the mental strength to come back from that but there is a problem; he is not a Diego Simone player at all.
"Even though Villa says Oliver can do what he wants and can be a top player and could be a replacement for Xavi, others are saying he's not for Atletico Madrid. Simeone is trying to put in his head that 'you have to work much harder, do not dribble too much, make better decisions.' If he overcomes that he'll be a top player."