Guillem Balague criticised Barcelona for not finding a solution to Lionel Messi's recurring hamstring injuries.
The forward limped off after less than half-an-hour on the pitch in Barcelona's 4-1 win over Real Betis on Sunday and is predicted to be absent for two months following scans which revealed the full extent of the problem in his left hamstring.
Here, Revista's Guillem Balague gives his view on what's gone wrong for the Argentine and who should take the blame.
WHAT'S THE PROBLEM?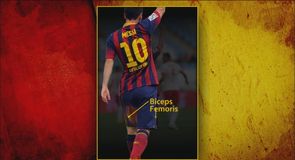 GUILLEM BALAGUE: "The Bicep Femoris is the muscle used for sprinting, it's a long muscle and one that is in the middle of two big muscles and you could say it was like an Achilles tendon for him. It's one that affects his explosive pace, one that he needs to be completely certain of working for him to use it.
"The problem with this kind of muscle injury is that for months you're never completely fine because it's not only the muscle that breaks, but also the face of the muscle it causes pain and that's what he's been going through since March.
"But this is not the same injury - it's the same muscle, but not the same injury - it's in a different part of the muscle compared to where he got injured against PSG and the problem on this occasion is that it's like a zip and it opens up if it hasn't been properly cured in the past, but of course the speculation now is where did all these injuries come from?"
WHO'S TO BLAME?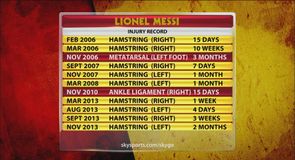 GUILLEM BALAGUE: "It's fascinating to come back to the chronology of it because in the last two years under Frank Rijkaard, Messi got injured a lot and then under Pep Guardiola he only got injured once, just once.
"At the beginning of the Guardiola time he had a look at him and what his body needed, what he was doing wrong, what he needed in terms of food because he used to eat pizzas and chocolate and Guardiola got rid of all that.
"But, that was when he was 21 and we're five and half years later now and they've kind of left him to prepare himself because he knows his body and chooses his own people. Now some of these people have changed and Barcelona need to look back at what he's doing and what they're doing.
"In terms of blaming, perhaps he needs to look at his body again and see what an almost 27-year-old body needs, but also Barcelona need to individualise more of his training. Why is it that they train Xavi and Messi the same way when they're completely different?
"Why haven't they looked in to what's wrong with him and why don't the doctors have an answer because Tata Martino admitted himself, they cannot explain what is wrong. How is it that a professional club hasn't done that yet?"