Graham Hunter told Revista that Carlo Ancelotti has "let himself down" over his treatment of Angel di Maria.
The Argentina winger is set to sign for Manchester United for a British record transfer fee this week, bringing down the curtain on a four-year spell in Madrid where he has won a league title, two Spanish Cups and the Champions League.
Di Maria's last appearance for Real Madrid came in the first leg of the Spanish Super Copa last week, but he was left out of the squad for the return game after Ancelotti made public his wage demands.
And Spanish football expert Hunter says that won't go down well among the other players.
He told Revista de la Liga: "Football dressing rooms are like a swimming pool with a drop of blood in it – if you let a shark in it will go straight to the blood and the players will sniff blood with Ancelotti.
"He has let himself down. A week ago, Di Maria was vital after a brilliant season, maybe the player of the season.
"A week ago, he was vital to bring on against Atletico Madrid. The crowd loved it and he changed the game, making Madrid far more threatening.
"This week [club president] Florentino Pérez said to the manager to stop encouraging everybody because they needed to get him out the door.
"Suddenly Ancelotti revealed Di Maria had asked to leave because he wasn't given the wage rise he felt he deserved and he was dropped from Friday's squad for the return match with Atletico and the expression was 'I don't need him'.
"The players will naturally look at the manager and say 'he turned out for you, he played in midfield for you, he even adapted his football and learned a new trick – and this is how you treat him?'
"I think it's been a bad week for his relationship with his squad."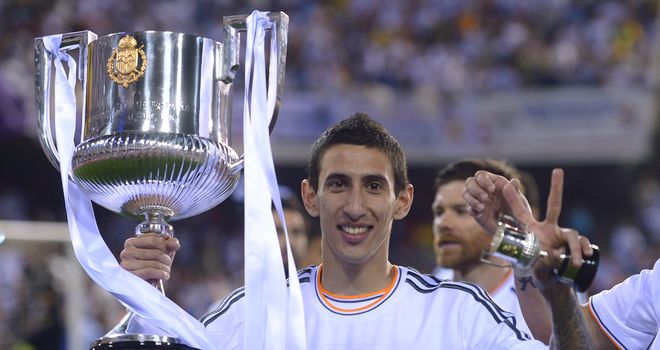 Revista de La Liga regular Guillem Balague broke the news of the deal on Sky Sports News on Saturday evening and says Di Maria turned down big-spending French giants PSG to move to Manchester.
And he says the player is pleased with the package he has been offered by Manchester United.
Balague said: "I've been told it's 80million euros, which is £63.9million, which gets divided into 75m euros fixed and 5m euros in add-ons.
"It will be a five-year deal it seems and he's happy with the money he's going to earn. It apparently matches what PSG were offering, which is 8m euros net.
"His entourage is saying that as soon as they found out Manchester United were in the equation then there was no PSG or anyone else, they just wanted to go to Manchester United.
"Well maybe, but it's quite clear that Cristiano Ronaldo played a part. They are going to give him the number seven and those things will bring back the love that he certainly didn't have at Real Madrid."