Atletico Madrid will find it very hard to repeat last year's title charge, Marcelino told Revista de La Liga.
Diego Simeone's side clinched the title after a dramatic season in La Liga, lifting the trophy for the first time in 18 years.
But the summer has seen several players leave the Vicente Calderon, including talismanic goalscorer Diego Costa, and Marcelino believes they will not be challenging for top spot again this term.
"Atletico Madrid did something fantastic last season," he said. "Doing something fantastic two seasons in a row, I find it very difficult.
"I think they have a stronger squad than last season, but they don't have those real top players who win you titles like Real Madrid and Barcelona do."
Lacking
Costa scored 27 league goals for Simeone's men last season, and since his exit to Chelsea they have replaced him with Croatia striker Mario Mandzukic.
The 28-year-old was Bayern Munich's top scorer in the Bundesliga last season, but Marcelino believes he is a different kind of player who will need more support from further back.
"They are lacking some creativity, and I don't think they've started this season really well," he said.
"I think they're going to miss Costa a lot. Mandzukic is a very good striker but I think Costa gave them another dimension in the general game, in open play.
"Costa was someone you could throw the ball to and he would score a goal. He could score from receiving the ball on the halfway line, and Mandzukic can't do that."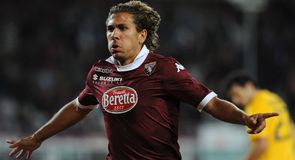 Tirelessly
The arrival of Antoine Griezmann and Alessio Cerci should bolster Simeone's creative options, and Guillem Balague believes the former Torino midfielder could prove key to Atletico's season.
"He's absolutely crucial," he said. "All of a sudden you've got that guy, while Griezmann is still finding his feet, who can be that player who links the midfield and attack while he works tirelessly for the team.
"He was the best assister in Serie A last season, so he can feed Mandzukic and everybody else in the attack, but he doesn't work at the moment either. If he manages to put that shift in in the games, he can be the missing link.
"But we are talking about Cerci, Griezmann and Mandzukic replacing Costa. It's not easy to replace such a player, but they're trying by giving the Atletico Madrid attack a different layer with Cerci."