After a superb six months of action, boxing is taking a mid-summer breather, but there are still plenty of mouth-watering contests to look forward to.
Former British and Commonwealth champion Jamie Moore and boxing historian Bob Mee had their say on the spectacular showdowns in the pipeline for the second half of the year on Ringside - 2013 So Far.
Here's their take on the headline bouts scheduled for the next six months, the state of the game, Britain's rising stars and the futures of Kell Brook and Nathan Cleverly...
Boxing in 2013
Mee: Boxing is still its same chaotic, maverick self! A few years ago I was getting frustrated because fights weren't happening - Mayweather v Pacquiao didn't happen and it wasn't the only one. But now the tide has turned a little bit and we're getting fights happening that we want to see. Hopefully we'll have a good 12 months of people putting together the fights that should be happening.
David Haye v Tyson Fury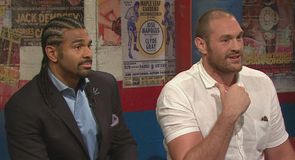 Mee: It should be dramatic. A heavyweight fight always captures the public's imagination and it becomes bigger than boxing. These are two talented big guys - one of them is a very big guy - and it's got people talking about the sport again. The fight has also got meaning because the Klitschkos are beyond there. Vitali is having one more fight, getting his knee better and then having one more - and is that going to be against the winner of this contest?
Moore: This fight will get the whole country buzzing and I think it will have a few shockwaves across the pond, as well; people in America are pricking their ears up. Fury is a character and characters build fights; this fight doesn't need selling.
Carl Froch v George Groves
Moore: Froch chased Joe Calzaghe for years and I think a big part of this fight being made was Froch didn't want to be seen running away from the young, up and coming guy. He's said as much himself. Groves is a tremendous talent, though, and has potentially got the style to beat Froch. It will be a great fight.
Floyd Mayweather v Saul Alvarez
Mee: Mayweather still likes a challenge, even at his age. He is still trying to make people believe he is one of the greatest fighters of all time - he still thinks he is. I remember talking to him 10 years ago and he said 'people are going to remember me as a great fighter'. It's taken some people a while to be convinced but this could be one of the last parts of that process.
Moore: How can Mayweather get up for a challenge now? He's been to Mount Everest, been to the top, a few times. He needs a challenge to get him to perform the way he needs to against Alvarez.
British world champions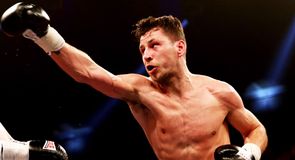 Mee: Where will we be with British world champions in nine months' time? Well I've given up getting these things wrong but Darren Barker has a great opportunity in August to win a world title belt, because he can beat Daniel Geale. They go right back to the Commonwealth Games in Manchester in 2002, so Barker knows him through and through. I've never seen him look so confident. Beyond that, who knows? Six months in boxing is 10 years in any other sport!
Nathan Cleverly
Moore: Cleverly has potentially got some massive fights ahead of him. He's gradually built up and built up while a lot of people were screaming for him to run before he could walk. But he's learnt his trade at world level and his ability will speak for itself.
Kell Brook
Moore: Brook has had a frustrating 12 months; his big fight against Devon Alexander fell through a couple of times and you can understand his frustration. Maybe mentally he went off the boil a little bit but he came back towards the end of the season with a good win and with this fresh start we're hoping for big things from him this year.
Frankie Gavin
Moore: Gavin really impressed me against Denton Vassell. I thought the fight was going to be a lot closer than it was but he seemed to really shine. People say he can't punch with knockout power, which could be true, but he certainly punches hard enough to stop you in your tracks because Vassell is certainly a hard enough opponent to stop him coming forward and Gavin did that.
The Olympians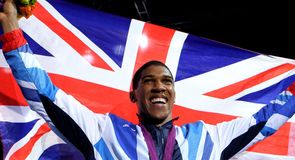 Mee: It's not like the old days where they had to make this vast transition to living as professionals; they've been living as professionals within the amateur system for quite a few years. They're already used to the discipline and commitment required. What they've got to do now is spend time putting rounds on their legs, stamina into their bodies - particularly Anthony Joshua, because it is hard for heavyweights.
He's got to learn to go eight, 10, 12 rounds. Early on he will have fights well within himself but they shouldn't wait too long [to move him up] because his ability will be much higher than the preliminary opponents. He might blow them all away quickly but he has to get stamina in his legs. Talent isn't the issue.