Is he simply the best? Well, Chris Eubank is certainly the most eccentric star Ringside has ever had on...
The one and only dropped into our studio for a special in-depth interview, reliving some of his magic moments and of course, his memorable antics in and out of the ring.
Johnny Nelson and Adam Smith sat mesmerised as Eubank discussed the rivalries that saw him hit the headlines more than any other British boxer back in the day.
Find out below just what he made of friends and foes alike...
HEROL GRAHAM
Their sparring sessions have become legendary, but they were kept well apart in real life...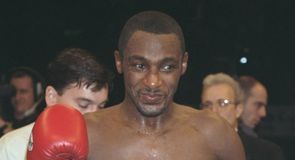 "I hit him once in two weeks - and it was a great shot - but I got punched to pieces every day. However, boxing teaches you the ethos of patience, of calmness. Then and even now, Naseem Hamed says that was an embarrassment. 'You got picked apart every day, it was embarrassing and people used to look away'.
"But throughout these weeks of sparring I was always calm, always gentle and always true. And I got there in the end! And Herol Graham was such an inspiration and in fact, I've had Herol down the gym and actually giving Christopher (Eubank Jnr) six days of training. A magnificent fighter he was. I said publicly when I had won the world title after I beat (Nigel) Benn for the world championship, 'I will never fight Herol Graham' and I was asked by the reporters and replied 'why would you fight a man you can't hit?'. You can't hit him. An amazing fighter."
NIGEL BENN
Their rivalry out of the ring was intense, but has calmed down now, after all these years...
"Benn was brute force, wasn't he? But he found God when he was 40... and the only reason I beat him, was because I was brought up in the church. It teaches you to be calm to be objective and steady and the reasoning I used beat him - and he found it when he was 40. I didn't change anything: there is only one way, to be calm, gentle and true.
"Our contest is not personal and that's why he lost, because he made it personal. He wasn't objective but I was, keeping my eye on the target, not on a person. How can you dislike someone you don't know? I never disrespected his mother or his children, so why did he dislike me? I didn't get that.
"We are acquaintances. Two lions don't share the same patch, they don't use each other. It's like celebrities; if you see Sylvester Stallone turning up in the company of Richard Gere, everyone walks in their own patch. We respect each other, we will shake hands and hug when we meet. There is an energy we have shared and our pleasantries mean I can go my way, you can go yours. We respect each other, but we are not going to go out drinking!"
MICHAEL WATSON
Eubank beat Watson twice, but still can't believe it...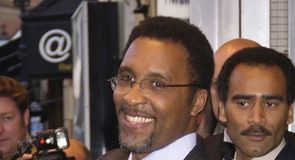 "Did I believe I would win? In the first fight, yes. And I believed that in the second one too. But I found out in the sixth round that it was never going to happen! I was never going to beat this man. He was too troublesome. I was out-punched, boxed, out-manoeuvred, out-fought, out-enthused and he beat me in every single regard.
"When I look at that fight, I can put it in the top 10 of fights I've ever seen. Why? Because a man who was controlling boxing at the time, was given a boxing lesson by Michael Watson!"
STEVE COLLINS
Collins beat Eubank twice but did so before a punch was even thrown...
"Steve was very good, but listen to this story... I go to Dublin to have a press conference yet I was the champion of the world, I have to go to Dublin and have the press conference in his back yard. He turned up an hour-and-a-half late but ok, it's just a trick, no problem. You are where you are and I am who I am. Then he speaks Gaelic for half-an-hour but that doesn't matter because when the referee says "box" there is only one way to go. But then, he (Collins) starts speaking English and says 'Mr Eubank we all admire you' and lots of other compliments and he is buttering me up. Then I am thinking that whatever you say, you are still Steve Collins.
"But then he said: 'I'm an Irishman and I do things for them, I support the Irish. But you're not really an Englishman, you're an African - so what do you do for the Africans?' Well, I lost the fight at that moment. The fight was just a formality. I'd lost it at that moment. There were so many things to answer; I couldn't talk to the tabloids because they want me to talk in soundbites, yet he (Collins) asked me what do I do for the Africans and I didn't even know where my ancestors are from."
NASEEM HAMED
They never fought but clashed when the youngster got in the ring...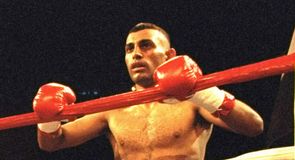 "The truth is that Naseem Hamed is eight years younger than me and there was an interview with ITV in which he said I'd copied his style. I've always been a giving man; it doesn't cost me anything and it's a pleasure to give what I know. I have always been the sort of person to give advice to those coming up behind me and I will continue to. It's what I do, what I am.
"But Naseem said I had copied his style. In private he said he'd been told to say it by his trainer and his manager at the time. But I said 'how can you do this?' Well he is eight years younger than me and I was an amateur in 1983 and I had vaulted the ropes for every single amateur fight I'd had - and Naseem Hamed had never heard of me because I was out in New York. If I'd vaulted the ropes 28 times in my amateur career that started in 1983 and then vaulted the ropes for every one of my professional fights - except my 51st because I had bad knees - how could I copy his moves? It just doesn't make sense.
"I shall leave you with this: if you go to YouTube and find the fight I had with Reginaldo Dos Santos (September 1990), who I KO'd in 20 seconds, you should watch it. Maybe in about two minutes after the KO, you see one young man, who is probably about 15 years old and is looking on..."