Joe Calzaghe beat some of the biggest names in boxing - and also had some of the best stories to share on Ringside Special.
The undefeated superstar looked back at his glittering career in the first show of 2014, so why not reflect on those famous wins?
In an honest and open hour-long special, Calzaghe relived wins over many, many fighters, but four in particular stood out.
Jeff Lacey and Mikkel Kessler were super-middleweight victims, while the legendary duo Bernard Hopkins and Roy Jones Jnr were light-heavyweight losers.
Calzaghe was the winner, of course, but let's see what else that quartet brought to the table...
JEFF LACY
WHAT: WBO and IBF Super-Middleweight world titles
WHERE: MEN Arena, Manchester
WHEN: March 4, 2006
WON BY: 12 Rnds Unanimous Decision (119-105, 119-107, 119-107)
CALZAGHE RECALLS: I think that was one of my proudest, if not my proudest performance because of the situation going into that. I was the underdog, I was getting written off by lots of people, I was too old and he was coming over with an amazing reputation. But I nearly pulled out of the fight! I have to thank my dad for that because a week before I was going to pull out because I'd injured my wrist. I went to Harley Street, he gave me an injection and told me I needed to rest for three weeks. Well, I was on the phone (I won't use the exact language because there'd be a lot of bleeps!) and he (my dad) was just like "why do you want to pull out of this fight?" and "you can't pull out of this fight!" I said I couldn't fight but he said: "If you don't fight this guy now, you never will because he won't be coming back."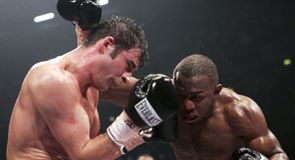 "So even if you have to fight one-handed, fight this guy!" I started to doubt myself a bit because I was thinking I couldn't fight this guy with just one hand. So I went into the gym and my dad said: "Joe I'm telling you no matter what, I am proud of you but you have to fight this fight. You have to fight this fight, Joe. Trust me, this fight is going to make you." I told him I couldn't fight with one hand and I was thinking 'what are you talking about? Saying this is going to be one of the easiest fights, this guy is going to make you? I asked 'how do you make that out'? And he said something quite simple: "Listen, this guy moves five times then throws a punch. You throw five punches and move once!" Think about it, he made a point, so every time Lacey was trying to set his feet I was throwing combinations in flurries and I annihilated the guy! The Jeff Lacy fight was a massive turning point for me, 100%. It just put me on a different level; without just being 'one of the champions' I was now THE champion!
MIKKEL KESSLER
WHAT: WBO, WBC & WBA Super Super-Middleweight world titles
WHERE: Millennium Stadium, Cardiff
WHEN: November 3, 2007
WON BY: 12 Rnds Unanimous Decision (117-111, 116-112, 116-112)
CALZAGHE RECALLS: Mikkel was a better fighter than Jeff Lacy but I knew that and obviously he was undefeated in 39 fights, he was younger than me. He was a very good all-round fighter but he'd never lost, so he didn't know how to lose until I fought him. But it was two undefeated champions in the ring so I had the utmost respect for Mikkel. He gave me a very tough fight and in the fourth round he hit me with some right uppercuts and I forgot what day of the week it was! I went back to the corner and got a couple of slaps from my dad, asking me what I was doing! So then I started being aggressive, played into his hands but adapted and that was one of my strengths - just completely adapting in a fight and changing my style.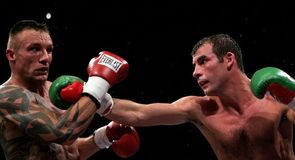 Basically I out-boxed him and pulled away from him. I think it was quite comfortable after the fifth round. But it was one tough fight and he was one of the best one or two guys I fought. He was dangerous and he was a very, very good boxer, very complete. I know he hasn't been very active (of late), semi-retired and I know he has had some bad injury problems but take nothing away from him, he's still a good fighter.
BERNARD HOPKINS
WHAT: 12 Rounds Light-Heavyweight
WHERE: Thomas & Mack Center, Las Vegas
WHEN: April 19, 2007
WON BY: 12 Rnds Split Decision (115-112, 116-111, 113-114)
CALZAGHE RECALLS: I chose to step up to light-heavyweight because once I'd unified at super-middleweight there was nothing left to do. I'd spent a decade being a world champion, I'd beaten the other undefeated guy, Kessler, I had all the belts and as I said before, I knew when I wanted to retire. Hopkins was talking the big talk from America, and I knew Floyd Mayweather was fighting Ricky Hatton, so I bought my own ticket, got on the plane myself, with a mate, went over to the States to Vegas and I knew Hopkins was there in the press room. We saw Bernard in there up on the stage, so we knew it was going to be fun. I went into the press room and I could see him looking at me, making his way to me and I knew it was going to kick off - and it was brilliant! He came up to me and said: "I am never going to lose to a white guy!" Brilliant, brilliant! Awesome! The fight was going to be made and he's just made sure it was! Also, there's so much money on the table once that comment had come out. He walked away and I was straight on the phone and the Hopkins fight was on!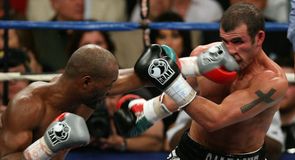 He's an excellent fighter, so clever. It was a messy fight with him though. He just doesn't let you throw punches and he started to tire after seven or eight rounds, he started to try and land the low blows etc, but it was a tricky fight, a close fight. I'd made a habit of going down late in my career! I went down twice in about the last 20 years, and here in my last two fights I'd gone down in the first round! It was a flash knockdown. He rushed in, caught me with a nice right hand but I wasn't hurt. I got up and I was always chasing the fight after that and in the back of your mind, you're in Vegas, you're fighting in America for the first time, so I knew I had to force it. I knew that my workrate was tiring and I just kept throwing punches and it was such a relief, a split decision too.
ROY JONES JNR
WHAT: 12 Rounds Light-Heavyweight
WHERE: Madison Square Garden, New York
WHEN: November 8, 2008
WON BY: 12 Rnds Unanimous Decision (118-109, 118-109, 118-109)
CALZAGHE RECALLS: After the Hopkins fight I knew I was going to have one more fight and that was it. I was still in great form, watch my fight with Roy Jones - except the first round. Forward past the forearm short and - listen - he wasn't the Roy Jones old, but he was still a good Roy Jones. I thought it was one of my best fights, especially round three. I felt still in great form. I always wanted to fight in Madison Square Garden. It was so emotional because I remember going into the Garden and I am close to tears before and I thought 'this is it Joe' and I stated to reflect on where I had started it all, a little village in South Wales and now I am in Madison Square Garden...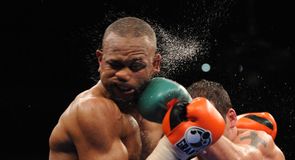 To me it was unbelievable; fighting a legend, thousands of people coming to see me from Britain, paying to watch me, it was fantastic. And you know what? I could've stopped Roy. And people said to me: "Why are you dropping left hands?" and things like that, but I was enjoying it! I remember counting down the rounds; five rounds to go, four rounds to go and I remember saying to myself 'this is going to be the last round of your life...'