Leinster's performance against Northampton last weekend was sensational as they humbled the Saints 40-7 at Franklin's Gardens.
On that performance the Irish province are certainly one of the favourites for the Heineken Cup final at the Millennium Stadium and the hunger for a fourth title is plain to see.
Ireland number 8 Jamie Heaslip shares his memories of his three biggest days with the club so far.
Heineken Cup final 2009: Leicester 16-19 Leinster
"Nothing prepared us for that day. Going up against Leicester who were so dominant and we we were behind for the majority of that game. I remember having a lot of belief in our players and in that second half we had a period of dominance where we really stretched them. Rocky (Elsom) made a massive break and I remember Shane Jennings giving me a bit of a booster rocket and firing me over their try line. When you are a young fella you think 'Yeah, I want to score that try that will get your team ahead in a big final'. It was a great personal moment for myself, Leinster had been trying so hard for so long and that was the year where we turned a corner and shocked a lot of people."
Heineken Cup final 2011: Leinster 33-22 Northampton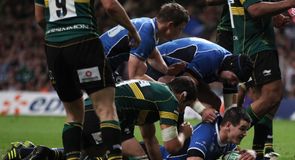 "Again we knew we were up against a big side and we knew what they were all about; they are a club who have a great heritage in Europe and are consistently at the top of their league. They hit the ground running that day but we did not panic and we regrouped at half-time. That is the beauty of rugby: it is a game of two halves. But there was still a feeling of 'how did we do this? How did we come back?' I can't actually put words to it, it was one of my favourite moments ever in rugby."
Heineken Cup final 2012: Leinster 42-14 Ulster
"This game was great for Irish rugby. I remember that unique moment at Twickenham getting out of the bus and walking towards the entrance and there were just hundreds of people around - that was 'hairs standing up on the back of your neck' type stuff. It was the first final I suppose that with about 15 minutes to go you could actually take it all in, take in the atmosphere - we still had a job to do but it was the first time I really enjoyed it."
Click here for our live coverage of the Heineken Cup