Dan Carter, who won his 100th New Zealand cap against England in November, is on a non-playing sabbatical as the All Blacks look to nurture him to the 2015 World Cup.
Arguably the world's best fly-half, Carter was sidelined for most of 2013 due to injury allowing Aaron Cruden to step into that coveted No.10 All Black jersey.
Cruden, who will co-captain the Chiefs as they bid for their third Super Rugby title in a row, will be looking to build on his form from last season, but has the exceptional talents of Highlanders No.10 Beauden Barrett breathing down his neck.
"You have to go with Cruden at the moment, just because of his experience," said Thinus Delport on The Rugby Club.
"He is in the set-up [at the Crusaders] where he plays off a good pack and is in a confident team going forward. He also has that firepower on the outside so he really has that support for his game.
"Barrett, as exciting as he is, is still playing in a set-up where there is a little bit of pressure on the forwards.
"The Hurricanes pack have not always dominated as much as their backs would like. I think he just needs that platform up front to stamp his authority."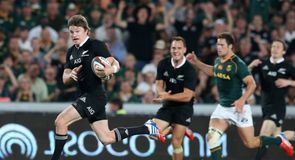 Former All Black fly-half Nick Evans agrees with Delport and says that if the Hurricanes can get a platform for Barrett to boss around, then he will give Steve Hansen and the rest of the All Blacks coaching staff something to think about.
"Cruden is definitely the number one but Barrett is a super-sub - he was a revelation last year," said Evans. "He came off the bench especially in that game against South Africa and was magnificent.
"Jean de Villiers ran over him and the next thing Barrett did was cut him apart, stepped inside him and went in under the sticks.
"If the Hurricanes can get the pack going forward and he gets that front foot ball, where he can steer them around the field, then he will put a lot of pressure on Cruden."
Grown up
Michael Lynagh, who knows a thing or two about playing at No.10, says Cruden has benefitted from the coaching of Wayne Smith at the Chiefs.
"Cruden has really come on in the last couple of years and that is because of the responsibility he has been given at the Chiefs.
"I cannot emphasise it enough but working with someone like Wayne Smith would really have helped his confidence and his decision making.
"He has been made co-captain this year and that is a big thing for him.
"Carter was being such a dominant force there but last season Carter was injured and Cruden really made it his own. I think he has grown up as a person and really moved forward."
Another player who will beneft from Carter's sabbatical is Colin Slade, who has stepped into Carter's shoes at the Crusaders.
"There is a lot of pressure on the Crusaders this year. It has been five straight years with no titles - this is a franchise who like Manchester United expect trophies," said Lynagh.
"They have no Dan Carter - you take him out of any side in the world and that is a massive loss. Colin Slade did well with the Highlanders but what he has now is a great team around him with fantastic players.
"Can he produce the goods like Carter did? Well, he is going to be scrutinised every single game and compared to him. That is a lot of pressure on him."
Magical Marshall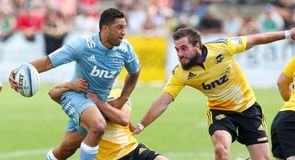 However the No.10 who is making the most headlines at the moment is rugby league convert Benji Marshall, who looks like he will be wearing the No.10 jersey for the Auckland Blues.
While Marshall has done just about everything in the 13-man game, including winning a World Cup with New Zealand and winning the golden boot award (awarded to the best player in the world), Evans believes he will find it incredibly difficult to adapt to the fly-half position.
"It is going to be tough, if he had stayed in league he would have become a rugby league legend. But fair play he has come over to union, he has all the skills and he has come to union for a new challenge.
"Being a 10, I know how hard it is - I have not played league - but I know how hard mentally it is to control a game - tactically, territory-wise, and knowing when to make the right decisions at the right time.
"If I run into a big forward usually I get turned over. He will find it tough, I have no question that he is a very talented player with a great skill set but it will be interesting to see how he goes."
There have been some highly successful converts from the 13-an game - Jason Robinson, Israel Folau, Sonny Bill Williams and Brad Thorn to name a few.
However, none have played in such a pivoyal role as fly-half and Lynagh says he will need plenty of time to adapt.
"It's a huge decision for them to make but I think No.10 is where they are heading. Like Nick said, it is that instantaneous decision making that you have to do at 10 that comes with experience.
"I am not sure he has got that yet but he was educated in Queensland so obviously a bright young man and it will come pretty quickly to him.
"He has got to get time in that position to understand the game and to know how to run the play from there. It's a tough call - it may come over time but at the start of the season we may see some problems."