Sunday's Heineken Cup quarter-final between defending champions Toulouse and Leinster is arguably the game of the weekend.
Making it to the semi-finals is all that matters for these two powerhouses of Europe, however we shall also see two legends of the game come up against each other for the last time.
With over 150 European appearances, four Heineken Cup winner's medals and nearly 500 tournament points between them, either Jonny Wilkinson or Brian O'Driscoll will bring the curtain down on an illustrious club career in Europe when the last whistle is blown at Stade Felix Mayol.
"The word legend is overused in sport but these two are true legends of the game," said Dewi Morris.
"Jonny Wilkinson has won a World Cup and he has won a Heineken Cup, O'Driscoll has won Championships with Ireland and he has won three Heineken Cups.
"How Brian O'Driscoll has kept going I don't know. He has 141 caps and still plays at the top of his game - tackling like a backrow flanker and then having the ability to score tries and make tries is just unbelievable.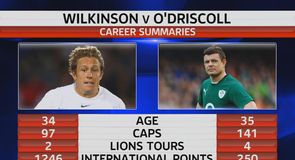 "Wilkinson is a points machine but no-one ever wants to go down either of their channels because they will smash you back like a dump truck.
"O'Driscoll's engine is just incredible - I have seen games where Leinster have really been struggling - he has gone from his centre position into the backrow position and nudged a try over from three inches. He just reads a game so well and is respected so much.
"No-one is bigger than the game though; they both know that and if they don't go out on a high then c'est la vie. They are two great guys who have done rugby a great service."
O'Driscoll for president
Connacht coach Pat Lam remembers the first time he ever came across the 18-year-old Wilkinson at Newcastle and reveals what O'Driscoll means to the people of Ireland.
"I remember turning around to Inga Tuigamala at training and we both said that this kid was the closest thing we have seen to a southern hemisphere No.10," said Lam on The Rugby Club.
"His skills were incredible but more importantly it was the tackle. I remember carrying the ball one day in training and he just walloped me. He was only just out of school too.
"Like Wilkinson, Brian O'Driscoll has just done so much - in Ireland they talk about him as the next president. Again, he is just such a great role model.
"A lot has been said about them but what stands out the most for me about them is their perseverance through tough times. Both have them have been through some tough times but have kept on coming back.
"The other thing too is that they are good people - they pass on the game and I think they will both be good coaches, because they like to help others around them. They both deserve all the plaudits that they get."
Catch Toulon v Leinster, 4.30pm, Sun, Sky Sports 3 HD