Jimmy Bullard will be on Soccer AM this Saturday along with comedian James Acaster.
'You Know The Drill' star Bullard will be on the sofa with Fenners and Helen to reflect on his start to management with Leatherhead and discuss some of the big talking points in football.
Also, ahead of West Brom v Arsenal, live on Sky Sports, Fenners chats to Baggies manager Tony Pulis in 'Bossing It'.
Pulis talks about the thought processes and procedures he goes through when picking his matchday squad.
Tubes meets Gillingham's Josh Wright to talk penalties and go head-to-head in a shootout after the midfielder scored three penalties in 12 minutes last weekend.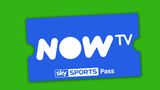 Fans of the Week are Manchester City and Liverpool ahead of their clash on Nissan Super Sunday while there's also Showboat, Brad Bobley and It's A Pen Ting.
Don't miss Soccer AM at the earlier start time of 9.45am, Saturday on Sky Sports 1, Sky 1 and Sky Sports Mix.
Sky Customers can now upgrade to Sky Sports and get 12 months for just £18 per month. Upgrade now!