Yannick Bolasie has said he is in a "good place" and hopes to return from injury before the end of the year.
The Everton winger has been out since December after suffering a cruciate ligament injury against Manchester United.
But he told Soccer AM: "I am in a good place today and doing rehab.
"I have had two operations which is why I have been out for a while, but in the long run I know it will be the best for me. I'll be back before the end of the year."
Bolasie made 13 appearances for Everton after joining from Crystal Palace last summer.
Following his injury he said he "tried to keep away from football for the first three months".
"I didn't go to the stadium because you get tense and feel like you wanted to be involved," he said. "It was about switching my mind off to something else. Now I'm up and walking I can get involved."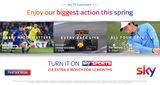 The winger also spoke about Seamus Coleman, who is set for an extended spell out after breaking his leg while with Republic of Ireland.
"Seamus is alright. I spoke to him," said Bolasie. "He is the one who has been always talking to me when I was injured.
"He would come up to me and say 'You'll be back flying and ripping people up' and now I'll be saying the same to him."
The battle for the Masters is hotter than ever before. Watch every drive, chip and putt from Augusta in the battle for the coveted Green Jacket on NOW TV. Watch live from just £6.99.