There were mixed feelings in the office after the weekend's football.
Bobbie went to the Emirates after Saturday's show to watch the Gunners defeat and echoed the opinions of most Arsenal fans at the moment.
"It was the most disappointing performance I've ever seen, it was worse than finishing last in the Dance Off which I've done four out of the last five years".
That's pretty disappointing! Tubes, however, was a lot happier with his side Chelsea's performance at Stamford Bridge on Sunday.
"It's great to have the Special One back, the atmosphere was brilliant," said the Cobham-based rapper.
"Frank Lampard looks to have a new lease of life; it was a great strike for the second goal. Kevin de Bruyne also looked impressive, so it's going to be an exciting season!"
Top
Tubes found himself at Wembley on Monday when he went to visit the Inces, Tom and Paul, to hear about Blackpool's great start to the season.
You can hear what they had to say on Saturday's show, but Tubes tells us they were both top blokes. Tom says he watches the show every Saturday and if he can't watch it live, he'll make sure it's recorded. We're certain he reads the office blog, too...
Tubes had a less-than-successful attempt at playing football himself on Saturday, though, when he turned up to find his team's pitch had been double-booked!
Curly also played football at the weekend but not the kind that we know; he put on his knitwear and took to the golf course for 18 holes of footgolf - a cross between golf and football.
We're not so sure that Sky Sports will be covering it anytime soon but Curly certainly enjoyed himself, coming second on one-over-par.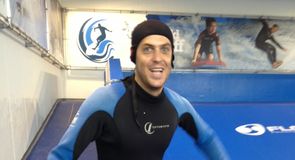 Franky Fryer has also been trying new sports.
The nutty geezer went to visit Premier League new boys Cardiff and put on a wet suit to give surfing a go.
You can find out how he got on this Saturday but you can probably guess it didn't go to well...
Franky also found time to go and visit one of the few guys considered louder and annoying than him, Mr GoCompare man.
Perfect
Stu spent the weekend celebrating his birthday - we won't reveal his age but he's older than he looks!
He spent time in Brighton for what he described as "the perfect birthday weekend" which included funny looks from others as he rode the carousel, a six-second attempt on the bucking bronco and tickets to watch Micky Flanagan.
We mentioned in last week's blog about the news of Rocket's engagement and after finding out how much wedding actually cost he wants to make an appeal to the readers of this blog who own a barn - a niche audience, we know.
Our Maroune Fellaini impersonator is looking for a barn for hire, preferably without animals. If you know of someone that can help, send our social-media expert a Tweet.
We're hoping Rocket's wedding will go a bit better than the one Dave attended at the weekend where the groom ended up in tears after the bride walked all over his favourite car after a few drinks, leaving quite a bit of damage.
Their marriage can only improve from here!
If you miss us during the week, make sure you're following us on Twitter and Instagram for behind the scenes access.
See you on Saturday.