BEST TRAINER - I would say Thomas Vermaelen. He always comes early, trains really hard, leads by example and he's the one to follow.
QUICKEST - Theo Walcott. That's easy. He flies, even when it's freezing out there and we can't even move.
SLOWEST - Probably Per Mertesacker. His size doesn't help, but he makes up for it with good positioning on the pitch.
HARDMAN - Bacary Sagna probably. He trains really well and he's a tough one to play against because basically he is very, very strong
MOST SKILLIFUL - Santi Cazorla probably. He's very comfortable on the ball and he has all the tricks. Alex Oxlade-Chamberlain, as well, is very good technically.
HARDEST SHOT - Lukas Podolski. He can strike the ball really well and he doesn't need any room. He just bangs it.
WORST DRESS SENSE - Carl Jenkinson. It doesn't match at all. He wears anything. When he comes to the Emirates and he's not in the squad it's not good at all.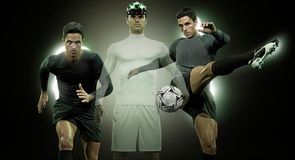 THE JOKER - Podolski without a doubt. He's always making jokes and he has a great sense of humour, even in the mornings. He's a good one to have around the squad.
BEST MATE AT CLUB - Santi Cazorla. We get on really well, we are from the same country as well and we get on very well with each other's families. We spend a lot of time together.
MOST VAIN - Olivier Giroud without a doubt. He's always playing with his hair with gel and looking after himself. He spends quite a lot of time on it.
AND... WHO'S THE LONGEST IN THE SHOWER - Giroud and Bacary Sagna. Both of them.
Mikel Arteta was at the photoshoot for the new Splinter Cell Blacklist game