Look back at Saturday's big incidents with the panel, including Paul Merson on QPR's renewed hope, Charlie Nicholas on Aston Villa's big win and Phil Thompson on Norwich's dodgy penalty...
Paul Merson on the influence of QPR's forwards in their victory over Sunderland
Bobby Zamora is an intelligent footballer. He holds the ball up and he's safe with his passes. That's what Harry wanted, a focal point to hold the ball up, and on their day you'd say Zamora is a better player than Jay Bothroyd, even though Bothroyd did great last week. Loic Remy is a very good finisher and should have scored another chance to make it 2-1, but he didn't panic. The three goals he's scored so far this season have been as cool as you like - and that's what you need. QPR aren't going to make a thousand chances in a game, so you need someone to be there and score one out of two. That's what Remy does.
I thought Andros Townsend was outstanding. He puts in a shift, he gets on the ball and he takes people on. He tries stuff and that's what you want. When you're down near the bottom of the league, confidence is not always great and you need someone who isn't frightened to shoot and try something out of the ordinary. The goal was as cool as you like - it's like they were 4-0 up the way he finished it.
I'm going to say they can stay up because of Harry. He's such a factor. If it was a different manager there I wouldn't be too sure, but because Harry's there I know what training will be like this week and I know what he'll be saying to the players and they'll be absolutely buzzing. With two wins on the trot, they're the bang-in-form team at the bottom of the league at the moment. But it depends on if they can go to Villa next week and not get beat.
Charlie Nicholas on a good Aston Villa performance against fellow strugglers Reading
Barry Bannan was back in the team today and doesn't try and hit the killer pass as often as he did when he was younger. He was just trying to get a fluency to the team and he played well. They passed it well and you look at their next two games at home and you wonder if this team is happier away from home in terms of keeping the ball and not having the same pressure on them. The Villa fans were very vocal today and at a lot of clubs the travelling fans are more patient and give you more time as long as you put in your heart and soul.
It was a shocking own goal from the young defender Nathan Baker , who had no pressure on him whatsoever and sliced it into his own net. After that, Paul Lambert pulled him to one side and had a word with him which must have been "focus and concentrate because it's gone and your mistake has been made". Fortunately for him they came back big style and equalised within a minute so it eased the pain. This was a decent performance from Aston Villa.
The difficulty for Reading is the next two games [Manchester United and Arsenal], as I would expect they would get nothing from them. They have to still be in there battling when they get to the home game against Southampton when it will probably be seven [defeats] on the bounce.
Phil Thompson on the penalty save that earned Southampton a draw with Norwich
The penalty was quite embarrassing from Grant Holt. It was in injury time and the ball was right on the corner of the penalty area and he was running in front of young Luke Shaw. He had a little look to make sure Luke Shaw was behind him and he jumped back into him and threw himself on the floor coming out of the box. It was awful, it really was, and you thought it was going to settle this game. But it's Norwich's first penalty of the season, so they haven't had much practice at this. Grant Holt stepped up to take the penalty and he hit it hard and true to the goalkeeper's right a couple of feet off the floor, but it was a great save by Artur Boruc. I think he deserved it. No penalty, fantastic save.
They were all surrounding the referee after the game and Mauricio Pochettino came out of the tunnel and marched over and I don't know what he was going to say because he can't speak English! They all wanted to have a rant and rave. Why? The thing was finished.
Southampton probably had the better chances, but there weren't many chances and I think a draw was probably a fair result. It was dreadful conditions, snowing heavily, and it was very wet on the pitch but it stood up quite well. In the end, I thought a draw was probably a fair result.
Matt Le Tissier on West Brom's controversial win over Swansea
Swansea were robbed of a point in the end because of the goal that was disallowed for offside. I saw the replay and there's absolutely no chance that it should have been disallowed. Roland Lamah went to square the ball across the box and the ball came back to him off Jonas Olsson and Ben Foster - two West Brom players, so not a single Swansea player touched it. Momentum had taken him towards the touchline and it came back to him off a West Brom player, so he can't be offside. The linesman has had an absolute shocker and Lee Mason, the referee, should have been able to spot that no Swansea player touched it. It was poor officiating from Lee Mason and his assistant.
West Brom have got 29 points at home this season and that's another three chalked up, which is absolutely phenomenal. On the second-half performance they will be very difficult to beat. I imagine it's difficult for Swansea [after the Capital One Cup win], but with a manager like Michael Laudrup I don't think he'll let them let up. They gave a good account of themselves in the first half and even though they were outplayed in the second half they still managed to put themselves in with a chance of getting a point out of the game. Traditionally League Cup winners do tend to struggle after they've won that trophy, but they've had a fabulous season no matter what happens.
Alan McInally on a bad day for Everton and Marouane Fellaini as they lost to Wigan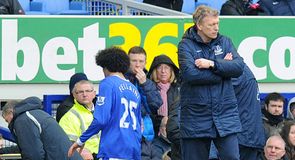 I've not seen Everton play like this for ages and ages. Every pass was wrong, it was either long or short, and David Moyes will be completely and utterly perplexed by the whole situation. He made a couple of changes and it didn't make any bit of difference whatsoever. It was a great day for Wigan and the whole place was completely dumbfounded. It's a big shock, they were massive outsiders and their manager Roberto Martinez got his players and his system spot on. When they were 3-0 up he just said 'that's it, shut up shop'.
The big players - Pienaar, Fellaini, Jelavic and Osman - didn't play well today and that didn't help and the fans were immediately on their back when they went 1-0 down. Moyes took off Fellaini and brought Darron Gibson on and the boos were absolutely unbelievable. He's been a massive player for them, but he didn't have a good game today where he looked like he was a bit non-plussed with the whole thing and they immediately latched onto it. As soon as he was substituted, it was incredible the amount of boos. Fellaini won't be happy about that, but they made sure they told him exactly what they thought of his performance. No chance were they booing the substitution and no chance were they booing David Moyes. They were booing Fellaini for his performance and I'm 100% sure of that.