The new Premier League season is just over a week away so skysports.com caught up with the Soccer Saturday pundits to get their predictions for the new campaign.
Paul Merson will once again be joining Jeff Stelling and the boys every Saturday afternoon on Sky Sports News to bring you live updates from the big games - and he's the latest pundit to step forward and make his calls...
Who will win the title?
Usually I can sit here and say it's between Team A and Team B, but this year is the hardest I've ever known. If Arsenal go and buy Luis Suarez now (and there'll be uproar among the fans if they don't) then they could end up winning the league. Man United could come first or could come fourth, they really could. I think Chelsea will be strong and Jose Mourinho is a massive X-Factor, but this ain't the league that he left behind when Chelsea had all the money in the world. Everybody has got it now and it's not so easy for him to get the players he wants.
If I had to choose someone today I would go for Man City - but I could be saying something completely different tomorrow if a few more players move. They have bought players in and had time to work on things. They look more solid at the back now; they were poor at times last year given the standard of the year before. So I'll say Man City, but if Suarez joins Arsenal then they will be massive dark horses.
Who will finish in the top four?
The four will be Man United, Man City, Chelsea and Arsenal but I don't know what way around they will end up. A lot depends on what Arsenal do. The directors had a meeting at the end of the season, said they'd got a lot of money for the first time and made a lot of promises, but they haven't bought anybody except Yaya Sanogo on a free from Auxerre.
It would really mug the fans off if they don't get anybody. If they don't get Suarez then they have to go and get Rooney, even if they pay OTT. I'm ruling Spurs out on the basis that if Gareth Bale goes then you're taking half of Tottenham out of the equation. Where would they have been without his goals last season?
Who will get relegated?
You've got to look at the three teams that are coming up. There's a massive gap between the two leagues and I see them getting caught in a situation where they end up spending £20million on a load of players for £1m, £2m or £3m. That's what Aston Villa did last year and they nearly got relegated. They'd be better off buying two top-drawer players and taking a chance that they might come in and be something special.
Cardiff, Hull and Crystal Palace are all going to be working on scraps, they're not going to have 25 chances per game so they're better off signing two £10m players who might make something happen. Cardiff have signed Steven Caulker and that's a really good buy, but at the end of the day it's about the other end. You'll stay up through scoring goals, not through keeping clean sheets.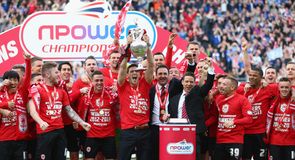 I was worried for Aston Villa a few weeks ago, but getting Christian Benteke to sign a new deal is like them signing a new £20m footballer. They will be more experienced this year and he will get 15 goals. I don't see any players from the promoted sides getting 15 goals because none of their players got 15 goals in the Championship!
Who will be the surprise package?
This may sound stupid because people will say this isn't a surprise, but I'm going to go for Arsenal as the surprise package this year. People will say they're always a top-four team, which is true, but they've not been close to winning the league for a long, long time. If they can get Suarez I really do believe they can win the Premier League. However, if they don't get him then I don't give them a chance of winning the league. He's the difference, along with Jack Wilshere playing every week. I also don't see Aston Villa being where they were last season and I think they could surprise a few people
Who will be top scorer?
I've got to go for Sergio Aguero because I think he'll play every week this year. In fact, I think all the big players will play every week. You often get certain times in a season, such as a Champions League week, where players get rested on a Saturday but I can't see that happening this year. It's going to be that tight, teams won't be able to afford to drop points. Managers of the top four sides will have to play their best team every week and that means someone like Aguero will get a lot of game time. If Manuel Pellegrini can get his team playing like he got Villarreal playing then Aguero can score loads of goals.
Who is the best signing so far?
There's two for me. You would have to say the best signing of the summer is Christian Benteke because he's the difference between Villa definitely staying up this season or going into a relegation battle. They can't afford a £20m player, but they've got one. I also like Roberto Saldado at Tottenham. He's a very good player and with no disrespect to Spurs I'm surprised he didn't go anywhere else because they're not in the Champions League. However, if Arsenal get Suarez it would blow everything else out of the water. I don't think people realise how big a signing that would be.
Who is your player to watch?
I'll pick Jack Wilshere. People always miss players when they're injured, but Arsenal were without Wilshere for half of the season and it showed what a big, big player he is for them. I also think he's going to be a big player for England in the World Cup next year. I think if he can stay fit this year then he'll be unplayable.
Which young player should we look out for?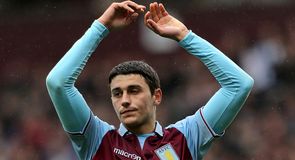 I'm going to go for Matt Lowton at Aston Villa. If he can start the season very well then I don't think he'll be far away from playing for England. You always get a dark horse going to the World Cup. Glen Johnson is our right-back and there's some good ones around, but if there's a couple of injuries he could get in there. He had an outstanding season last season, he scored the goal against Stoke that probably kept his team up and he was consistent every week for a struggling team. He's a year older now and he looks to be a good player.
Wish for the season?
I want the league to be really tight. Last season the Premier League fizzled out and there wasn't too much happening on the last day. Manchester United won the league very easily and I want it to be much closer. Personally, I think it will be because I can't see anyone running away with it. Just look at the predictions from the Soccer Saturday boys on this website. We've been asked who will win the league and you're getting three different answers. That tells you straight away how tight it is!
To see Matt Le Tissier's predictions click here.
To check out Phil Thompson's predictions click here.
To check out Charlie Nicholas' predictions click here.