The Sunday Times and Sky Sports Sportswoman of the Year Award plays a vital role in inspiring the next generation of female athletes, says Jessica Ennis-Hill.
The 2012 winner of the prestigious award says the prize raises awareness of women's achievements in sport but also encourages young girls across the country to follow in their footsteps.
And, with the 2013 event to be shown on Sky Sports this year, Ennis-Hill is delighted to see the accolade go from strength-to-strength.
"It's really important - and it's great it's being televised this year," she told skysports.com
"The more sportswomen are put on TV and seen picking up awards the more young girls will see of them and want to follow them by getting involved in the same sport or something similar.
"There are amazing sportswomen out there doing great things and it's important we get that message across."
Honour
Ennis-Hill describes collecting the trophy 12 months ago, in a hugely successful year for British female athletes, as an 'honour'.
But, after her injury-plagued campaign in 2013, she reckons Christine Ohuruogu or Shelley Rudman could take the prize this time.
Ohuruogu became world champion for a second time over 400m in August, while Rudman clinched gold at the skeleton world championships in February.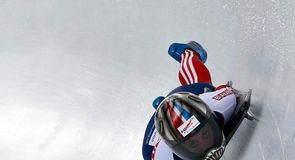 "Winning it last year was a huge honour because it was such a great sporting year for our country and so many female sportswomen," said Ennis-Hill.
"I really didn't expect it because there were so many amazing performances and it was hard to pick one.
"This year, Christine was brilliant. I was obviously disappointed not to be at the world championships myself, but I was on the edge of my seat at home watching her.
"That was an incredible performance and she always manages to pull it out of the bag when it matters.
"Then, for me, Shelley is obviously up there.
"She's preparing really well for the Olympics, is an incredible person and is so dedicated to her training.
"Skeleton is her whole life. She's got a daughter to take care of but she is so successful at what she does."
You can watch the Sportswomen of the Year Awards live from Sky Studios on December 5 on Sky Sports 1 HD from 8pm.