This time last year Charley Hull was still an amateur golfer. Tied for third after the opening round of the 2012 Women's British Open, her talent was clear for all to see but no one could have predicted the impact she would have in 2013.
After only turning pro in March, Hull proceeded to put together a run of five consecutive second place finishes on the tour to earn a spot on Europe's Solheim Cup team to face the United States, becoming the youngest player ever to compete in the event.
If that wasn't enough the 17-year-old proceeded to may a key part in Europe triumphing on American soil for the first time in the competitions history. A win in the fourballs alongside Jodi Ewart Shadoff was good but it was her performance in the singles that was most impressive.
Hull came up against former US Open champion Paula Creamer, a tough opponent for any player, let alone a teenager making her Solheim Cup debut just a matter of months after joining the professional ranks. Hull was unfazed as she comprehensively beat Creamer, 5&4 to set Europe on their way to victory - and the Kettering-born golfer believes it was actually closer than it could have been.
"I can't really remember much of it, to be honest, because it was all a blur," admits Hull. "But it was a great match. I played really well and I missed a few puts otherwise I could have beaten her by even more."
The Europeans may have been on top already but it is Hull's win that has largely been credited with providing an added boost for the team and starting the momentum on that final day. Hull accepts that it helped but is reluctant to go any further than that.
"It was good to get an early point on the board and it probably helped but I don't really know what the others were thinking," she says.
"It's sunk in now and it felt really good when we did win, I can't wait for the next time to come now."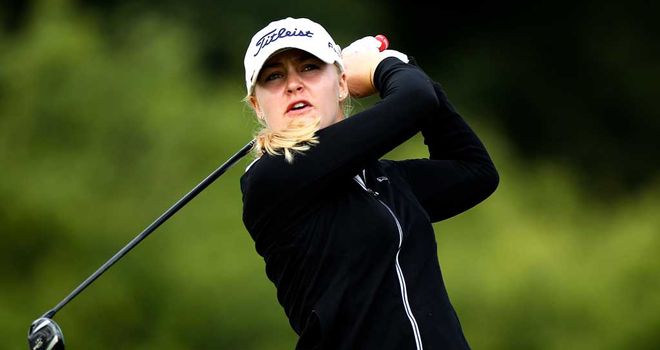 Such success perhaps didn't cross Hull's mind at the beginning of the season but she has an unwavering confident in his abilities and was pleased with how she was playing going into 2013.
"Definitely I felt like I was in good form so it gave me more confidence," adds Hull. "I wasn't really thinking about much at the start of the year but I knew what I was capable of and I'm happy with my season so far so, yeah, it's been a pretty good year."
Such an understated response to what most players would consider a brilliant season shows the standards Hull sets for herself, although she insists she hasn't set any targets for the coming year and will simply "go with the flow and hope I do well."
Hull came to golf at a very young age with her father, Dave, a golfer himself and more than happy to help his daughter get started in the game.
"My dad played golf so I probably started playing when I was about two or three then I properly started when I was about four or five and it went from there," recalls Hull.
She has come a long way since then and her displays this year have seen her make the shortlist for the Young Sportswoman of the Year award. Whilst the nomination is certainly welcomed by Hull, she admits that striving for further improvement on the golf course means she hasn't looked into it too closely.
"It's really good, I haven't looked into too much because I like to just focus on my golf and let the other stuff just come with it," explains Hull. "But of course it would be an honour to win it, it would be awesome."
After events in India and Dubai, Hull will take the chance to relax over Christmas and maybe by then she'll have another achievement to look back on.