In May of this year the odds on Katarina Johnson-Thompson getting a nomination for the Young Sportswomen of the Year award must have been pretty high. It wasn't that she was performing badly but rather that she hadn't competed at all.
After a whirlwind 2012 saw the then 19-year-old heptathlete compete in her first major senior competition at a home Olympic Games, Johnson-Thompson opted for a prolonged rest rather than competing during the indoor season. Outdoors was the focus for 2013.
However, just as things were about to get underway an ankle injury put things on hold once more meaning a further two months on the sidelines.
"It's been a bit of a weird one this year," said Johnson-Thompson. "I was skipping the indoors for a start because after a big 2012 season I wanted a long rest and we didn't have to rush into anything and do the indoors so basically last year was all about the outdoors."
"Then as I was just about to start my season I tore ligaments in my kick off which is my left ankle, my take off foot for the high jump and the long jump. This was May which is probably the worst time to get an injury as I'm just about to start my season; I actually did it in a competition.
"It took me a while to recover from that and get back into competitions so really my season has been very short. I've done four big competitions which I did really well in so it's been a bit of an up and down season."
Johnson-Thompson's comeback came in the shape of the European under 23's Championships in Finland and she admits that she didn't know what to expect from herself heading into it.
"I had no confidence at all going into Finland," she revealed. "It was the first time I was really quite nervous to do a competition because I did actually do the Bedford qualifier for the Europeans and I did awfully!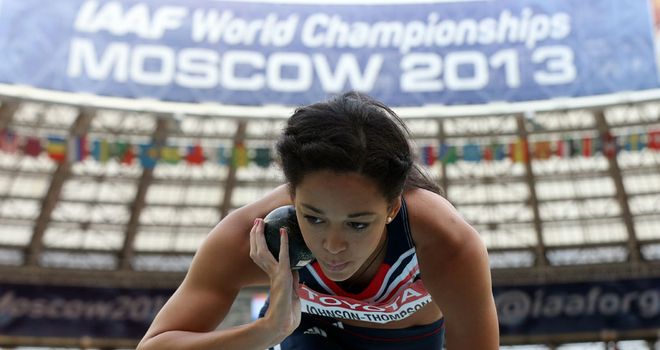 "I was so far off where I wanted to be because tearing my ligaments meant I had basically nine weeks off without doing any serious technical work, so I was very behind.
"I could still do a bit of the fitness work but I couldn't do any of the jumps, I could only run in a straight line and I couldn't do the javelin either because of the twist with the ankle. So going into Finland I only had an idea and I was really quite nervous."
As it turned out there was no need to worry as the Liverpool-born athlete took the gold medal with a score just shy of her personal best, a significant breakthrough according to Johnson-Thompson.
"I started my season really in Finland doing the European U23s, I didn't really know what form I was in and just turned up on the day," she explained. "That was my first competition coming back from injury and I won that.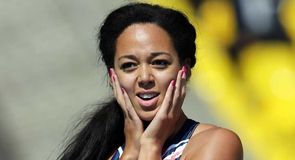 "After coming away from that just a couple of points away from my PB that was quite a major breakthrough because my PB last year was so high up on my previous one. It was really good, it was what I did in the Olympic Stadium.
"So getting just a couple of points off in Finland gave me a lot of confidence to go on for the rest of the season and build on that score that I got in Finland for Moscow."
Moscow hosted the World Athletics Championships with Johnson-Thompson selected to compete in just her second major international tournament at senior level. Her form heading into the championships was good, the win in Finland having been followed up by the long jump gold at the Anniversary Games in London.
Improvement
Competing against much the same field as in the Olympics 12 months previously, the 20-year-old showed just how far she had come in that time as she narrowly missed out on a bronze medal finishing fifth with a new PB score.
"It was very mixed emotions because I think about five people in the competition were going for the bronze, so the 800m was a bit of a rat race," recalled Johnson-Thompson. "Everyone was running for their life really.
"I think there were about 10 people in our race and about eight of them got PB's because we were all going for the bronze. It was bitter-sweet but I can't really complain because last year was my first senior international with the Olympics - I'd never experienced anything quite like it and I came 15th.
"So just a year on to be coming fifth against basically the same competition, the same girls, I can't complain. If someone had offered me fifth in the Worlds at the start of the season I'd have grabbed their hand off."
2014 will see Johnson-Thompson go in search of her first senior international medal at the Commonwealth Games, that is the next step for her, she says. But before that a topsy-turvy year may yet end on an even bigger high with the Young Sportswoman of the Year award.
"It's all still very new to me and I'm really honoured to be up for the award," she admitted. "Especially because it's not just athletics, it is all sports so it's much appreciated that I've been recognised for doing well last summer."
Such considerable improvement for two years running means such recognition was surely inevitable and further progress next year would undoubtedly see Johnson-Thompson right back in the mix for a medal come Glasgow.