The winners of the prestigious 2013 Sunday Times and Sky Sports Sportswoman of the Year Awards will be announced at a star-studded ceremony on Thursday night.
The awards, to be broadcast live for the first time in their 26-year history from Sky Studios, will pay tribute to the Sportswoman of the Year, Team of the Year, Young Sportswoman of the Year and Disability Sportswoman of the Year.
There is also the Helen Rollason Award for Inspiration to honour one individual's inspirational endeavour, while a special Lifetime Achievement Award will recognise enduring sporting success. A Community Award saluting a sporting project at grassroots completes the list of seven categories.
Christine Ohuruogu, Shelley Rudman, Charlotte Dujardin, Becky James, Non Stanford and Heather Knight are all in the running for the top award, while readers of the Sunday Times and Sky Sports voted for the team honour.
And ahead of the glittering ceremony, which will be on Sky Sports 1 HD from 8pm, we bring you the best of the build-up...
Sportswoman of the Year
After many fantastic performances over the past nine months, the nominees for the main award have been cut down to just six athletes - with Ohuruogu, Rudman, Dujardin, James, Stanford and Knight looking to emulate the likes of Jessica Ennis-Hill, Denise Lewis and Victoria Pendleton by winning the accolade.
Ohuruogu continued her knack of finding top form just as the biggest events come around as she took the gold at World Championships in Moscow by the finest of margins.
A trademark late surge saw the 400m runner emerge victorious in a British record time but only after a photo finish showed her dip towards the line had been enough to see her pip defending champion Amantle Montsho.
Both Ohuruogu and Botswana's Montsho, the pre-race favourite, finished in an official time of 49.41 but the East Londoner, who crucially dipped her head on the line, was deemed the winner by an astonishing four thousandths of a second.
Rudman created winter sports history this year by becoming the first British woman to win a skeleton world title. Back in February in Switzerland, the 32-year-old claimed victory in a time of 4mins 38.60secs.
"Since Vancouver in 2010 I thought I'd really like to achieve everything in the sport," said Rudman. "I'd won the Olympic silver medal and I thought I could achieve much, much more and go to another level.
"I targeted the European Championships and the overall World Cup title and I managed to secure that championships title last year. So I thought that the World Championships, that would be the whole collection of medals.
"I targeted that one and fortunately everything came together, it was at my favourite track, it was just incredible. Then I realised after I'd done it that I was the first British women to win the World Championships title so that was the icing on the cake, it was really nice."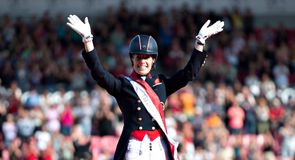 Dujardin followed up her two golds at the Olympic Games in London with three medals at the European Dressage Championships in Denmark.
The 28-year-old secured victory in both the individual dressage, the first time she had won the European event, and the freestyle test before adding a bronze in the team dressage alongside Carl Hester, Michael Eilberg and Gareth Hughes - with Dujardin's performance was marked down as a world record at 85.942%.
"After 2012 there was a huge gap after the Olympics. You kind of thought, 'Oh my God, where am I going to go to from there'," she told Sky Sports.
"It was a massive comedown - I dreamt of just getting to the Olympics, not thinking that I was going to be a double gold medallist at all. It was just absolutely crazy. (But) I think there are always more things to do and more things to achieve."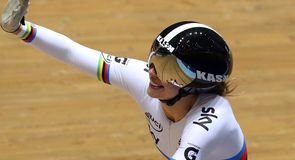 James is in the running for two awards at the ceremony, with the 21-year-old Welsh cyclist also nominated for the Young Sportswoman of the Year honour.
James was in irresistible form at the UCI Track Cycling World Championships in Minsk in February as she won four medals in five days.
James won gold in the women's sprint and Keirin events as well as bronze medals in the team sprint (alongside Victoria Williamson) and 500m time trial.
"To be honest, I don't think it has even sunk in," James said. "I could never have imagined becoming a double world champion at 21.
"It all happened so fast and then I went on a little holiday which I totally relaxed on, then I was back into training, focusing on the next thing ahead. So I never really had time to think about it and let it sink in. Now we're in season again and thinking about the next World Championships. You never really have time to look back."
Stanford overcame a 15-second penalty to be crowned ITU world triathlon champion in September in the Grand Final at London's Hyde Park.
The Welsh athlete headed into the final race in third in the overall standing but despite her penalty for failing to place her wetsuit in the box after the 1.5km swim and issues putting on her cycle helmet in the first transition period, Stanford came home in a time of 2hours 1mins 3secs to end the series on 4,220 points, 415 ahead of fellow Brit Jodie Stimpson.
"It's something I've dreamt about all my life, since I was a little girl" she said. "I used to look up to sporting stars and think 'wow, they're amazing, what they do is unattainable.'
"Then all of a sudden you're one these people, you're World Champion and it's hard to contemplate and come to terms with. I'm trying my best to enjoy it and embrace it and enjoy everything that goes with it. I am itching to go back to normality and back to training properly."
Knight was named the 'player of the series' as the England cricket team beat Australia this summer to wrap up a 12-4 points victory in the women's Ashes. The 22-year-old right-handed batswoman was the leading scorer with 301 runs from seven matches of this inaugural multi-format points system.
"I was quite surprised to be nominated for the individual award, there's so many great names in the mix," Knight said.
"I was looking back at some of the previous winners and there's some very well-known names up there.
"Just to be nominated and be associated with those sort of names, and the other five nominees who have had brilliant years in their own respective fields. To get nominated is an honour, hopefully it will be a good evening and then who knows?"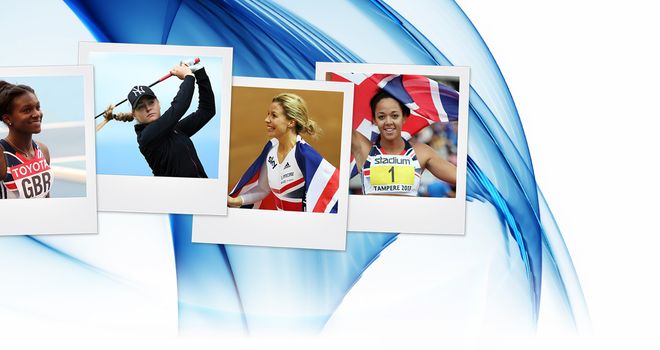 Young Sportswoman of the Year
Based on the performances of the athletes to have made the shortlist for the Sunday Times and Sky Sports Young Sportswoman of the Year Award 2013, the future of women's sport in Britain looks extremely bright.
James, who is also nominated for the main award, is joined on the list by Dina Asher-Smith, Charley Hull and Katarina Johnson-Thompson - with the quartet showing themselves to be amongst the very best of their age in their respective sports.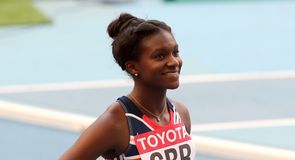 Asher-Smith, 17, was the youngest member of the Great Britain 4x100m relay that won bronze at the IAAF World Championships in Moscow in August.
The sprinter also won two gold medals in Rieti in Italy at the European Athletics Junior Championships - both as part of the 4x100m relay team as well as individually in the 200m.
"When I came home it hit me that I had actually been at the Worlds!" said Asher-Smith.
"It was just so cool. When I thought about it afterwards it was quite humbling because I got a medal and had raced all these amazing people.
"At the time I didn't really think about it too much, I just wanted to stay grounded so I didn't mess up while I was out there really."
Hull, also 17, played a crucial role as Europe lifted the Solheim Cup on American soil for the first time in the competition's 23-year history.
Hull, who received special exemption to play in the event before her 18th birthday, helped Europe to an 18-10 victory over the hosts at the Colorado Golf Club with an impressive 5&4 triumph over former US Open champion Paula Creamer.
"I can't really remember much of it, to be honest, because it was all a blur," said Hull.
"But it was a great match. I played really well and I missed a few puts otherwise I could have beaten her by even more."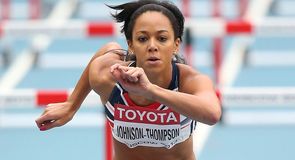 Johnson-Thompson followed up her gold in the European U23 Championships in Finland with a superb display at the World Championships.
The Liverpool Harriers athlete shone in the absence of Jessica Ennis-Hill, narrowly missed out on a bronze medal, eventually finishing fifth.
A score of 6,449 was a personal best for Johnson-Thompson, who also bettered her own records in four of the seven events during the competition.
"It was very mixed emotions because I think about five people in the competition were going for the bronze, so the 800m was a bit of a rat race," said Johnson-Thompson. "Everyone was running for their life really.
"I think there were about 10 people in our race and about eight of them got PB's because we were all going for the bronze. It was bitter-sweet but I can't really complain because last year was my first senior international with the Olympics - I'd never experienced anything quite like it and I came 15th.
"So just a year on to be coming fifth against basically the same competition, the same girls, I can't complain. If someone had offered me fifth in the Worlds at the start of the season I'd have grabbed their hand off."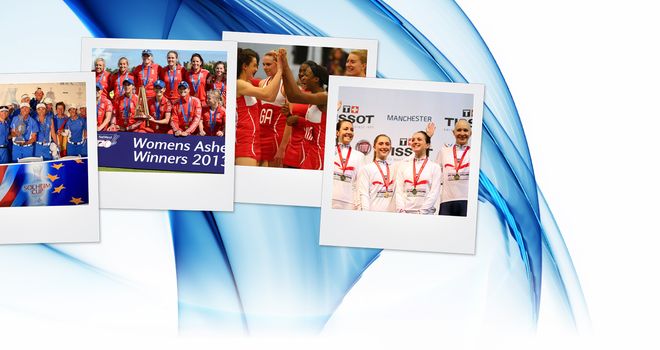 Team of the Year
England's cricketers, who recovered from World Cup disappointment to wrap up a 12-4 points win over Australia, are out to claim the Team of the Year prize for a third time but face some intense competition. Player of the series Knight said: "For the team to get nominated is great for us. We had a really good summer after quite a hard winter. We lost two World Cups to the Aussies during the winter so to come back from that and perform really well during the summer I was really pleased for the team. Hopefully we're in with a good chance of winning as well so that's good!"
England's netball team won 12 of their 13 matches during a sensational 2013 - clinching series wins over Australia, Jamaica and South Africa along the way. Coach Anna Mayes believes that the nomination is no less than her team deserve after such a brilliant year. She said: "It's fantastic and I think it's great recognition of the true professionalism that the girls demonstrate on a day to day basis considering that they're actually not professional athletes."
Britain's team pursuit cyclists - featuring Laura Trott, Dani King and Elinor Barker - also make the cut after defending their 3km title in Belarus. Fellow cyclist - and contender for the Sportwoman and Young Sportswoman awards - James said: "Year by year they keep on getting better and better and faster and faster. They're like an unbeatable team and they're such a lovely group of girls, they're so driven, they work so hard and it's incredible to seeing them doing so well in their racing and up for the award."
And Europe's Solheim Cup golfers are strong contenders after a maiden win on American soil - with the ladies storming to an 18-10 victory over the hosts at the Colorado Golf Club. Hull, who is also a nominee for the Young Sportswoman award after her involvement in the success, said: "I think it's pretty good and hopefully it'll help more young people to get involved having seen what we achieved in America. It's sunk in now and it felt really good when we did, I can't wait for the next time to come now."
The winners of the award were voted for by readers of the Sunday Times and Sky Sports.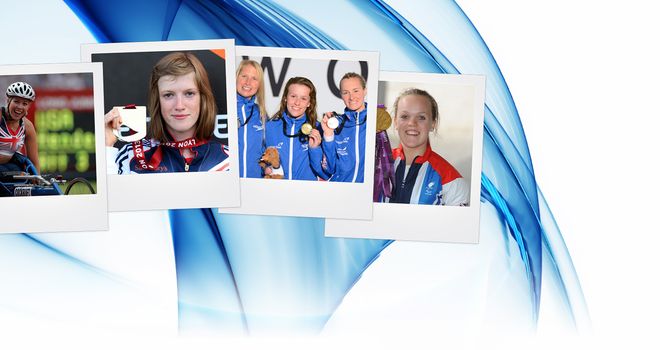 Disability Sportswoman of the Year
The award for the outstanding British sportswoman with a disability will once again be highly competitive with the success of the London Paralympic Games continuing and some new talented youngsters emerging.
And Hannah Cockroft, Sophie Hahn, Amy Marren and Eleanor Simmonds have been rewarded for sensational years with nominations for the prestigious award.
Wheelchair athlete Cockroft has had a superb 2013 starting with being awarded an MBE in the New Year Honours list for services to athletics. The 21-year-old from Halifax was in excellent form at the IPC World Championships to retain both her T34 100m and 200m titles in Lyon, while she set a stadium record in winning the T33/34 100m in 17.80 seconds at the Anniversary Games in London.
Hahn enjoyed a fantastic debut season on the senior tour with the 16-year-old storming to victory in the T38 100m at the IPC World Championships in a world record time of 13.10 seconds. Hahn also won silver in the T38 200m - a fantastic achievement having only recently taken up athletics.
Marren, 15, picked up a stunning four gold medals and two silvers at the IPC Swimming World Championships in Montreal. Marren came out in front in the S9 100m Butterfly and the SM9 200m Individual Medley, as well as being part of the 4x100m Freestyle Relay and 4x100m Medley Relay teams that won gold.
Simmonds picked up three golds and a bronze medal at the IPC Swimming World Championships in Montreal to take her career medal total at the championships up to 14. The 18-year-old beat the field to take the top prize in both the S6 100m and 400m freestyle as well as coming home first in the SM6 200m Individual Medley with a bronze in the S6 50m freestyle added in for good measure.
Who would you like to see named Sportswoman of the Year?
Charlotte Dujardin

Becky James

Heather Knight

Christine Ohuruogu

Shelley Rudman

Non Stanford