Sirens travel to Team Bath on Friday night knowing they must win to keep alive their Vitality Superleague play-off hopes.
A defining weekend in the race for the top four gets underway on Friday night as the five teams still in the race face pivotal fixtures.
For Manchester Thunder and Wasps they can clinch their top four spot with victories, while Sirens, Bath and Storm know wins are crucial to aide their ambitions of extending their season.
Wasps and Storm conclude the Week 16 action live on Sky Sports Mix on Monday night, by which time defending champions Surrey could have dropped out of the top four for the first time this season.
Team Bath are hot on the heels of Storm having drawn level with them in Week 14 and both teams need to keep winning with Sirens still not out of the equation.
All that makes Friday's meeting between Bath and Sirens the biggest game of the weekend.
A sixth successive win for Bath will move them into the top four before Storm's Monday night fixture, and it will also end Sirens hopes of a play-off place in their debut season.
However the Scottish franchise are six points adrift of Storm and Bath so cannot afford any slip-ups with three games remaining. A win in Bath on Friday night will throw the race wide open and move them within a win of the play-off spots.
Also on Friday night Severn Stars host Team Northumbria with both teams out to end their season on a high despite their play-off hopes being over.
"We're looking to put out a strong performance," Severn Stars captain Laura Malcolm said.
"This game is very important to us. We've had a run of bad performances and we can't let that continue. It doesn't matter who we play and where they sit in the table.
"We need to focus on our own performance and making sure we play good netball. Some of our results haven't always given a fair representation of the how well we've played.
"This team has so much potential, but potential means nothing in the here and now. We all need to push ourselves more both physically and mentally and produce a strong performance, which we are more than capable of doing."
On Saturday Manchester Thunder have the chance to clinch their play-off place. Victory over Hertfordshire Mavericks in Hatfield will secure their top four place once again.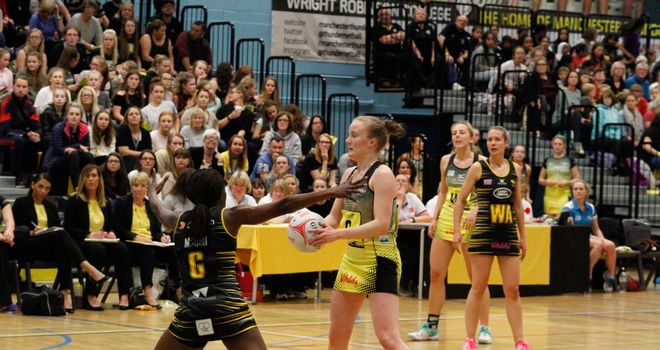 Karen Greig's youthful team have kept pace with the leaders for much of the season and will be keen to bounce back after suffering just a fourth defeat of the season against Wasps on Monday.
They've won their last six games on the road while Mavericks are without a home win since Week 8, and after last week's results know they cannot make the top four.
Loughborough can edge closer to confirming that they will end the regular season top of the table. A win at home to bottom of the table Celtic Dragons will mean they could clinch top spot if Wasps lose to Storm on Monday night.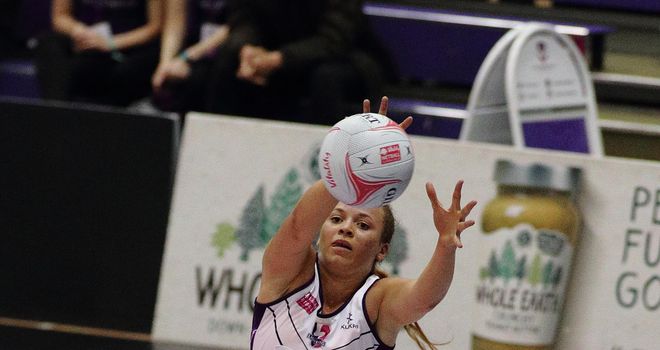 Either way victory will mean one win from their final two games will secure their place at the top of the standings.
Wasps and Storm then clash on Monday night by which time the scenarios for both will be an awful lot clearer after the weekend's results.
Just one win is required for Wasps to book their place in Manchester in June, while they could also qualify if they lost all three remaining games, such is their advantage in the goal difference stakes.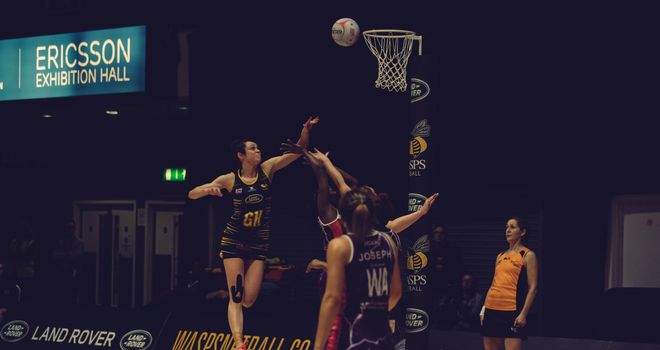 Tamsin Greenway marked her return to Storm in Week 7 with victory and a repeat will mathematically secure their Finals spot.
Storm's agenda is clear; they need to halt their slide down the table which could see them start Monday's game in fifth place.
Six wins from their opening six games saw them set the early pace but just three from their last nine have put their place in the post-season in jeopardy.
A morale-boosting win at Celtic Dragons saw them return to winning ways last week after back-to-back defeats and the trip to Wasps is the first of three tough games to end the season.
| | | |
| --- | --- | --- |
| Friday | | |
| Severn Stars | v | Team Northumbria |
| Team Bath | v | Sirens |
| Saturday | | |
| Loughborough Lightning | v | Celtic Dragons |
| Herts Mavericks | v | Manchester Thunder |
| Monday | | |
| Wasps | v | Surrey Storm |
Follow the next live Superleague action on Sky Sports Mix on Monday when Wasps host Surrey Storm from 7.30pm