On February 19 this year, it is fair to say that relatively few people outside of cycling had heard of Becky James. Five days and four medals later and the 21-year-old from Abergavenny had changed all that.
World Championship bronze in the team sprint alongside Victoria Williamson was followed by another in the 500m time trial before two gold medals in the space of 24 hours in the sprint and the keirin saw James hit the headlines before you could say 'the new Victoria Pendleton.'
The comparisons to a double Olympic gold medallist so early in her career may have been considered a burden for some but James seems unconcerned.
"It is an inspiration," she says. "If I can achieved anything close to what she's achieved then it would be pretty incredible."
"But being 21 and winning two world titles...if someone had told me the year before I wouldn't have believed them."
Certainly those two world titles must help in ensuring that James is unfazed by being measured against such a well-known and successful cyclist. Add in that with four medals in a single World Championships she has achieved something no other British rider has ever done and it shows she has no reason to be - not that she has had much opportunity to reflect on any of it.
"To be honest, I don't think it has even sunk in," James says. "I could never have imagined becoming a double world champion at 21.
"It all happened so fast and then I went on a little holiday which I totally relaxed on, then I was back into training, focusing on the next thing ahead. So I never really had time to think about it and let it sink in. Now we're in season again and thinking about the next World Championships. You never really have time to look back."
That was never more evident than following James' first gold medal in Minsk, where the Worlds took place. The prospect of the keirin final the following day meant that celebrations had to be kept to a minimum after her sprint victory.
However, there was at least the advantage of being able to go into the race feeling more relaxed than would normally be the case, a factor James believes helps her perform to her best.
"I was on such a high after winning in the sprint and I had the form of my life so I was just enjoying every race," she explains.
"The coaches said to me 'you've come here, you've done what you needed to do - just go out and enjoy yourself' so I think that's when I race my best, when I don't put any pressure on myself and go out and enjoy it. I knew it was the last day of racing and I just wanted to get every last bit out of myself in the race and that's what I did."
Gobsmacked
James' success has seen her nominated for both the Sportswoman of the Year and the Young Sportswoman of the Year awards and the GB rider is finding it hard to get her head around the fact she is put in the same category as the likes of past winners Jessica Ennis-Hill, Denise Lewis, Paula Radcliffe and Victoria Pendleton, of course.
"Just to hear those names and be considered on the same level as them, I just can't even describe it, I'm kind of gobsmacked," she remarks. "I mean Becky James on the same level as them - I honestly can't even imagine it.
"To be honest, (winning) either award would be absolutely incredible and just to be nominated for them is such an achievement for me."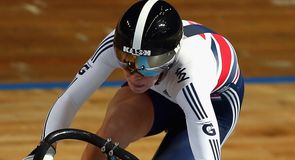 2014 sees James defend her world titles before the summer's Commonwealth Games in Glasgow. Whilst the medals are fantastic, the main aim is to ensure that she is progressing year on year ahead of 2016 and the Olympics.
"Next week I'm off to the World Cup in Mexico and then it's all about the Worlds then at the end of February in Colombia," she adds.
"I always have my little targets in my head and after achieving what I did in Minsk it would be incredible to go and do the same again but, at the end of the day, it's all about focusing on Rio.
"As long as I'm gaining each year, that's all I'm aiming to get. It's obviously amazing to get the results as well but I don't want to jinx myself. I'm just looking forward to racing again."
Remember you can watch the Sportswomen of the Year awards live from Sky Studios on December 5.