Charlotte Dujardin was one of several members of Team GB to capture the nation's hearts during last year's Olympics, but the fact she has stayed at the top of her sport in the wake of the Games has helped mark her out from the rest.
Of the six nominees for the Sunday Times and Sky Sports Sportswoman of the Year Award, only dressage star Dujardin has an Olympic gold medal from London 2012 to her name.
Dujardin was one of the true breakout stars of the Games, propelling herself into the national spotlight after bringing home gold for Britain in the team event and also claiming individual glory.
After experiencing such a career-changing high she may have been forgiven for succumbing to a multitude of post-Olympic distractions, but the 28-year-old instead quietly went about backing up her achievements with two more individual gold medals and a team bronze at the European Championships.
Dujardin also set a new world record of 85.942 this year, but maintaining her status as the world's top dressage rider was not as easy as it may sound.
"After 2012 there was a huge gap after the Olympics. You kind of thought, 'Oh my God, where am I going to go to from there'," she told Sky Sports.
"It was a massive comedown - I dreamt of just getting to the Olympics, not thinking that I was going to be a double gold medallist at all. It was just absolutely crazy. (But) I think there are always more things to do and more things to achieve.
"My first year of Grand Prix, which was 2011, I did the European Championships and we won the team gold. I just missed out on an (individual) medal there so I was really aiming for this year knowing that I probably had a good chance for gold.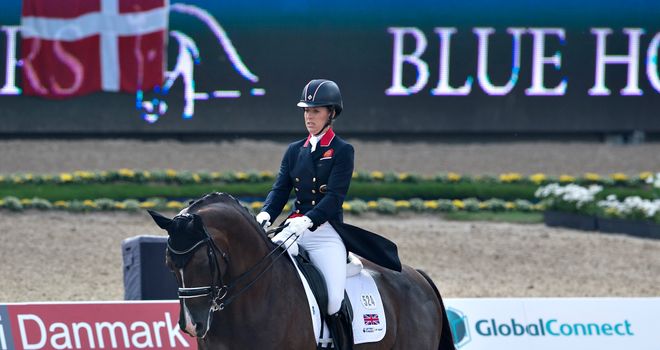 "So I went in there and tried to do that and I did, it was fantastic that I managed to achieve that."
Dujardin added: "After the Olympics it was a massive roller coaster. Everybody wanted a bit of you, you had offers left, right and centre but I turned a lot of it down because I didn't want it to change my life.
"I'd done what I wanted to do and I wasn't one for fame, I just wanted to carry on with my life and my training and doing what I do best."
There was a very real chance that Dujardin would be forced to compete in 2013 without Valegro, the Dutch Warmblood horse that was so key to her Olympic campaign.
After the initial plan to sell Valegro after London 2012 did not materialise, Dujardin capitalised on the reprieve to combine with the gelding for even more success this year.
She said: "We were really lucky that we managed to keep him and that I got the ride to compete with him this year. I competed at Rotterdam, Hickstead and then obviously the Europeans so it was a massive relief that I still had him really."
Although it is Dujardin alone who ultimately takes the plaudits atop the podium, she says the relationship between her and the horse is key to her performances.
"It is hugely important because it's about a partnership and a connection that you have with your horse," she said. "The horse has got to want to do it with you and want to work with you.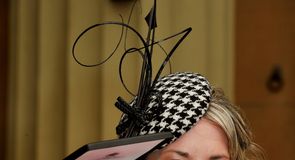 "I feel like I've got that trust and that partnership with Valegro.
"Seeing him in training since he was such a young horse up to the level he is now has made it even more special because we know each other's strengths and weaknesses and we can help each other out."
Although she now owns more honours than most sportspeople earn in a lifetime, Dujardin is still relatively a relatively inexperienced performer on the dressage scene.
She said: "2012 was my second year of Grand Prix - it was an incredible rollercoaster of a year - and this year I had that expectation on me a bit.
"Everything that happened last year, I didn't even think about it, it just happened. I just went out and did my thing and next thing you know I've broken a world record.
"It was absolutely surreal what happened last year, whereas this year I wanted to go out there and 'get it' more."