Never has so much scrutiny been upon a Winter Olympic Games and not for 90 years have Team GB travelled to one with so much hope of winning medals, well more than the one that has become the norm at the past few Winter Games.
There are a number of reasons why Sochi 2014 has so much attention, it's the first post-Soviet era Olympics hosted by Russia, an incredible amount of money has been spent on it and I mean an incredible amount.
Around £32billion, that's four times the cost of London 2012. There are many reasons why the cost is so high, Russia has built all the venues from scratch along with vast transport infrastructure.
And there's the huge cost of making these Games safe, security is extraordinary with some 40,000 police and military personnel along with unmanned drones just a few of many measures in place.
So to Team GB. Targets have been set by UK Sport, dreams have long been in the making by the competitors themselves. In reality, Team GB is not one of the 'big' nations at a Winter Games, however they could write a little bit of history.
At Chamonix in 1924 Britain won four medals overall and finished sixth in the medal table. Finishing sixth at Sochi 2014 is unlikely, but winning four medals or maybe even more is not beyond the realms of possibility.
Where will those potential successes come from? Well, look to a sport where Britain is at the forefront. Skeleton. Since 2002 when Skeleton returned to the Winter Olympic schedule, Team GB has won a medal at every Games.
British women have led the way with a bronze, silver and gold in Vancouver four years ago from Amy Williams. At Sochi, Team GB's women can realistically dream of winning two medals, possibly a British one-two.
Very strong
Shelley Rudman won a silver at the 2006 Turin Olympics and since then has consistently been one of the world's best sliders indeed last season she was crowned world champion and was ranked No 1 in the world.
Already a medallist on the World Cup circuit this season, she has been determined to tailor her racing and training to peak at Sochi in February and not before. Gold is on her radar, an Olympic Gold is the only prize she hasn't won in the sport.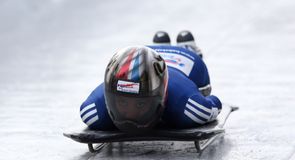 However, hot on her heels, in fact maybe this season scorching past her is Lizzy Yarnold. In the first six World Cup races of the season, Yarnold won three, took silver in two others and the bronze in the other. Not bad at all. She's unsurprisingly world No 1 and a favourite with many to take gold at Sochi 2014.
One thing is for sure, Team GB is very, very strong in this sport especially the women. Having spent time with and watched both Rudman and Yarnold at various races last season and this, just from what they say and their attitude they would be very disappointed not to come away from Sochi with a medal. They know they are good, they just need to get it right on the day.
Staying on the ice, more medals could appear. Britain's curlers are pretty good, both men and women's teams. Eve Muirhead is the skip of the women's team, her mentor and coach is Rhona Howie maybe better known as Rhona Martin.
Martin skippered Team GB to gold at the Salt Lake City Games in 2002 and has a brilliant mix of knowledge, humour and fear to get the best out of the current team. Muirhead, along with Claire Hamilton, Vicki Adams, Anna Sloan and alternate Lauren Gray are the current World Champions.
They are full of confidence, train hard at their base in Stirling under the guidance and watchful of eye of Howie and importantly are feared by the other nations in with a chance of gold at Sochi.
The men, skippered by David Murdoch are a more stable unit than at previous Olympics. They have consistency on their side and are very much in the mix after bronze at the 2013 World Championships.
Short track Speed Skater and Sky Scholar Elise Christie is one to watch out for in more ways than one. Firstly she's a gold medal chance, secondly she'll have one of the coolest hair styles at the Games.
Ready for when she competes the 23-year-old is going to dye the ends of her blond locks orange and red so when she has her helmet on and is racing at speeds of 50 kph it will look like she has flames flowing out the back of her head.
Crashes
Quirky and great fun Christie's sport is a bit of lottery because it's so quick and in such a small area, crashes are commonplace. Her participation at the Olympics was momentarily in doubt after a crash last year when she thought she may have broken her ankle, instead another skater had sliced through her thigh.
Painful yes, but not enough to keep her away from the Olympics. Despite the crashes in short track speed skating, Christie has spent the last 12 months learning from coach Nicky Gooch how to master the tactics of her sport, how to avoid crashes, how to time the charge to the finish line.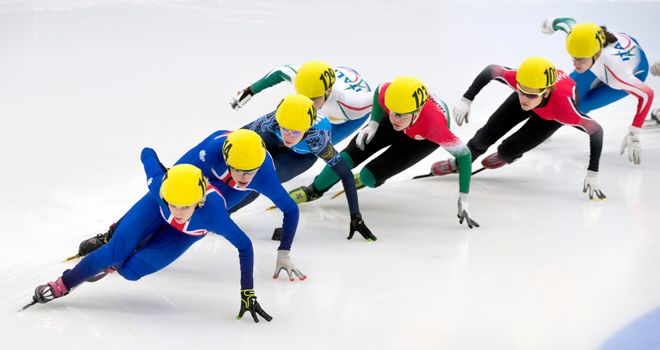 She has always been quick, winning 1000m bronze at last year's World Short Track Championships and being crowned 1000m overall champion for the 2012/13 season. Christie will race over 500m, 1000m and 1500m at Sochi 2014, the 1000m is her favourite event. From the men's team Jon Eley has an outside chance of medalling, he's previously competed at two Winter Games.
Bobsleigh has received significant funding from UK Sport, well over £3million for it's 2010-2014 cycle, so realistically a return on that investment will be expected. Is it likely? Well there is potential and driver John Jackson is at the helm of the men's four-man Bob who could deliver a medal.
Jackson is a medical freak after rupturing his Achilles tendon last August only to steer GB to their best World Cup result since 1997 when they took silver at Lake Placid in December. He is a powerful athlete, yet his injury means he can't run out as hard at the start as he has normally done. Doesn't seem to be doing any harm on recent results.
I spoke at length with Jackson before his injury about prospects for Sochi 2014 and he was understandably bullish, but he gave good reasons which made me listen more intently. He explained the track at Sochi and how it suited him and his team and how they could exploit it to their advantage.
He told me it rewarded the power starters and those who take a risk at the start. He did go on to say that he'd have to be on his 'A' game for the whole run, but that the track at Sochi was one that suited Team GB.
Others whose performances of late do give them a chance of success at Sochi 2014 are James Woods, the Ski Slopestyle star won the first two World Cups of the current season.
He won't be overawed by the Olympics, Woods has already made the podium at the X Games and that event likes a bit of razzamatazz so the pressure and attention at the Olympics won't bother him in the slightest.
Snowboard slopestyle is making it's debut at Sochi, so keep an eye on Jenny Jones who has long been a star in this sport. She's already won two X Games gold medals and last summer won silver at a World Cup event in New Zealand.
And never discount snowboader Zoe Gillings. Her experience at the highest level over many years have made her a respected competitor. She's had injury problems to overcome, but will head to Sochi after a string of top-five finishes at World Cup events last year.