Well, it's here... the 2014 ZEO Netball Superleague season begins today and I can't wait.
Who are the contenders? Who are the challengers? We hope we feature in the former group here at Team Bath but we are under no illusions that the margins in this league have become narrower and narrower.
Having been fortunate enough to have experienced success on five occasions I can honestly say that our latest win over the ever-improving Celtic Dragons in May last year was our toughest yet - not least because of their shooting weapon in Lottysha Cato. When you've been successful, opposition teams throw everything at you, anything that can unsettle you, and try to disrupt the 'flow' and rightly so; I would be exactly the same in their shoes.
When reflecting on the closing stages of last year's final I find myself getting goose bumps and all of the emotions that I felt come flooding back: frustration, anxiety, fear, excitement and absolute pride when that final whistle went. Each and every player who had left everything out on court had managed to achieve for the fifth time what some never even feel once - incredible.
In fact, it's almost a maternal feeling at that point and I will always remember fondly how Serena Guthrie - last year's vice-captain - found me and put her hand on my shoulder, recognising all of the pressure oozing out of me and said 'Jess, it's ok we've done it, we've won.' It makes me smile now as it was like a role reversal having coached Serena at her first England U17 Netball Europe final in one of my first National Coaching roles.
Never satisfied
Our challenge now is this: 'how do we and can we repeat success?' The saying 'there's only one way to go when you're at the top and that's down' is relevant but we are never satisfied.
You could be mistaken when listening to some of our debriefs that we are reflecting on a loss, when in actual fact we have won and sometimes quite convincingly, but if our standards of performance haven't been met we are ruthless in our reflections, our feedback to one another can be brutal and born out of that is hunger to always strive for more.
Our targets and ambition go beyond that of what the league sets and we aspire to achieve World Class standards, otherwise we render our ourselves very vulnerable to standing still, reaching a plateau and risking those around us overtaking us. We just can't afford, that.
What can you expect from Team Bath?
We've lost a fantastic player in Kadeen Corbin who is returning to her home in London and will become a real asset for Herts Mavericks. Our Captain Asha Francis is expecting her first baby in March who we hope to be a future TB player! Long-standing Team Bath athlete Gemma Stewart is taking time out to pursue her career after many years of juggling high performance sport with her aspirations in the physio world and University graduate Kat Hayes has relocated to take up her first job.
Despite these notable losses the team is blessed with the return of many of last year's squad and joined by some very exciting new and young talent.
Pam Cookey, Rosie Allison, Serena Guthrie, Mia Ritchie, Stacey Francis bring their experience of 20 Championship wins between them and their knowledge and insight of the league contenders, while relatively unknown defenders like Summer Artman (just 17-years-old), Jenna Murie (a steal from last year's Celtic Dragons squad) and former Team Bath Championship winning captain Billy Pritchard (formerly Bowers) add a freshness to the team.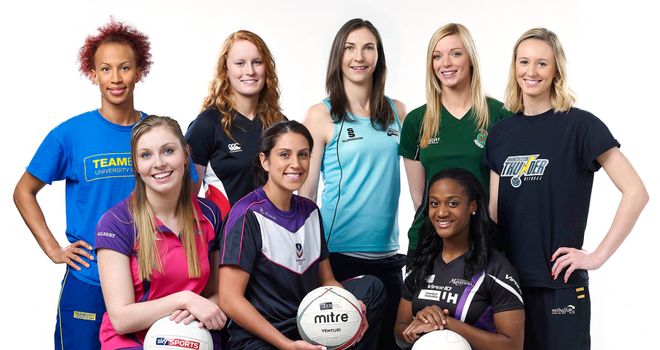 Who do we consider our main rivals?
We all start on an even playing field and we respect all the teams for what they will bring to the mix this year. History and past success are great but that's what it is... history.
We can be proud of it and take confidence from it - after all, winning needs to become a habit - but what we need to do is create each team's own history and that starts for us on Friday at 8pm against Northumbria.
Northumbria
Our first opposition is in itself an interesting proposition. Whilst Team Northumbria may not have ever reached the final stages they are a very different outfit this year with a Celtic presence of their own.
With many Northern Ireland athletes featuring in this season's squad they will undoubtedly be stronger. I was impressed with Northern Ireland when I was lucky enough to watch their matches live in the Singapore World Championships in 2011 and so it appears, was their new coach - former Singapore National Coach and New Zealander Kate Carpenter.
Her credentials are strong and she has a reputation for making significant improvements to an underdog. How do I know this? Asha Francis, our former captain, played under her for the Singapore National Team and spoke highly of her so I have no doubt that she will bring strength to this Northumbria team and I look forward to the clash.
Thunder
Refreshingly, there are many teams that must fancy themselves to become champions this year, including Tracey Neville's Manchester Thunder. Boasting one of the best midcourt line-ups in the league, spearheaded by England's vice-captain and former Team Bath favourite Sara Bayman they, like us, have a large number of national and national age group players.
Renowned for their talented youth and with a very successful NPL team, the future is very bright for the Northern outfit. It's fitting that we meet them so early in our campaign; it will be a real test of our pre-season preparations.
Mavericks
Hertfordshire Mavericks should be feeling confident having regained the services of their former captain Camilla Buchanan after having her first child, as well as Kadeen Corbin who is returning after graduating from her studies at the University of Bath. They have also recruited two Aussie imports in Sarah East and Samantha May.
They're always a difficult team to beat and some of the best matches I've witnessed have been between us and Mavericks. When we have reached the final we have only ever faced Mavericks (until last season) and we've been fortunate to come out on the right side, but they too are one of the most successful teams in the league's history and never give up. I expect more of the same from them this season.
Dragons
Having had a taste for the final, Celtic Dragons will be wanting to go one step further and in a Commonwealth Games year this would be the perfect preparation for the Welsh side. A team with dual ambition for both club and country can never be underestimated and the question of how to tackle the towering Lottysha Cato whilst respecting the strength across the rest of their team will undoubtedly have had food for thought over the pre-season period.
Storm
Surrey Storm, yet to win a league title as set out in their first three-year mission statement, will be aiming to go one step further than they have done in previous years if they are to fulfill their vision of becoming the No.1 Superleague team. They have the experience and have many returning members to the team in Trippick, Greenway, Dunn, Bello, Holland, Reid, Davies, Ainsworth, Lees - arguably the least-changed team from last year suggests that they might be the most cohesive outfit, but all will be revealed when they take on Thunder in their first match, which promises to be an encounter worth watching. They've also recruited overseas player called Becks Jury who is a like-for-like replacement for last year's import Ash Neale.
Jets
Bubbling to the top of the 'challengers' must be Yorkshire Jets after impressing over the last few seasons and climbing up the league they will feel they deserve a place in the top four this year and Anna Carter's side should not be discounted.
We had first-hand experience of this when we found ourselves 10 goals down in the final quarter of the knockout stages a few seasons ago only to go on to produce one of our most memorable comebacks against a very spirited Jets side. Difficult to beat away from home, we again found ourselves narrow winners last year, so we will need to be at our best when we head up the motorway.
Lightning
'Rising from the ashes of the phoenix' is the best way I can articulate my thoughts on Loughborough this season. There have been so many changes there that I think it's best to throw out any historical knowledge and instead watch closely, do our homework and respect the new-look coaching staff and group of athletes that will be determined to bring their aspirations back to life. Under their new management I expect this very proud team, which has been successful in the past, to pursue their ambitions to the utmost. I have always had absolute respect for the talented youth in the Loughborough side and if they can now combine well with the overseas recruits, then who knows what they can achieve?
Success
Our hopes are high for a successful season. We're chasing a sixth title and what would be a third double championship win. It would be a remarkable achievement to emulate our closely-fought win of 2013 and I believe we have a team that can go all the way.
I guess the one factor that differentiates us from all of our opponents is the absence of any imports in our team. Whilst we have not found ourselves having to go down that route yet it is not something that we would discount in the future, but for now we will just have to wait and see if we have the recipe for success or if the remaining seven teams have found the main ingredient in their overseas signings. Only time will tell; let the games begin.
Don't forget Sky Sports will bring you live coverage from each round of the ZEO Netball Superleague, starting with Herts Mavericks v Celtic Dragons Thursday 30 January from 7.30pm on Sky Sports 3.
You can also buy tickets to watch Surrey Storm v Herts Mavericks at the Copper Box Arena on Saturday 8 March as part of Netball London Live right here.