Elise Christie says her experience in Sochi has left her more convinced than ever of her ability to win an Olympic medal.
The string of misfortunes suffered by Team GB's short-track speed-skating star became one of the 2014 Games' defining stories as she was disqualified in all three of her scheduled events.
The first penalty came after judges ruled Christie had caused a pile-up in the 500m before crossing the line in the silver medal position, and to make matters worse she became the target for Twitter users angry their idol - Korean athlete Park Seung-hi - had been brought down in the crash.
When Christie was then kicked out of the 1500m on a technicality she briefly considered quitting the Games, but she recovered to compete well in her favoured 1000m event until a semi-final crash made it a hat-trick of disappointments.
Ultimate low
"I did hit an ultimate low in my career after the first two distances and the stuff on social media," Christie, who went to Russia as European champion in the 1000m, told Sky Sports.
"I had a day where I trained really badly and felt like I'd fallen out of love with short-track, and that really broke my heart a bit because I've always loved it.
"But the support of everyone back home really made me bounce back, and I went into the 1000m skating the best I've ever skated.
"After that I have a lot more confidence than I've ever had in my ability. I never had much self-confidence and now I feel I can come out of the Games with real confidence.
"I definitely want to be at Pyeongchang in 2018 as long as nothing stops me. It'll be my peak Games, so hopefully I'll perform well there."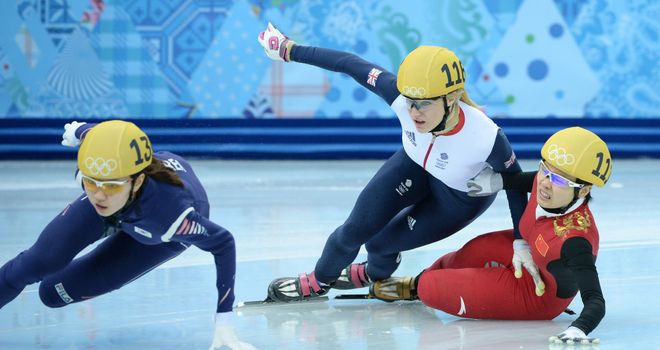 The catalogue of cruel exits this time might have been enough to end a lesser character's 11-year involvement with a sport notoriously prone to haphazard outcomes, but for Christie it is precisely short-track's uncertainty that makes it so beguiling.
She said: "If you ask most short-trackers they'll tell you: if you cross the line in first you're unbelievably shocked.
"It's that kind of sport where things have to go your way and you have to race the race properly. When you cross the line and you've won it's, like, 'I can't believe I've done it! I was the best on the ice today!'
"Everybody just loves that feeling, and that's why people work so hard at it. Everyone's different, but if I was guaranteed to go out and win something I would probably find it too boring: I need something that's going to make me work harder every day.
"There are different variables in every sport, but with short track there definitely is an element of chance which does make it more exciting."
Funding
Short-track speed skating has benefited from UK Sport funding in recent years - almost £3m in the four-year run-up to Sochi - and since last year Christie has had the support of Sky's scholarship scheme.
"We wouldn't have been able to progress the sport as it has progressed without Lottery funding," she said. "Now obviously Sky are on my side as well.
"That means I might be able to go abroad and train with girls, because at the moment I have to train with boys and it's difficult to practise the skills I need against boys that are obviously going to be more powerful than me."
In the meantime, Christie hopes the legacy of short track's newly-raised profile will be a clutch of potential medallists come the 2022 Games.
She said: "In Korea they have so many people to compete against just to get on the team, so to compete in a World Championships is not a big deal because they're used to it.
"For us it's like 'oh, I've not done enough racing for this'. It's hard, but in the future hopefully people coming through will have that kind of thing."