This week on Sportswomen new England football team manager, Mark Sampson, joined me to discuss the future for his team who are in a strong position heading into their World Cup qualifiers.
Expectation is high for the side. They are up to eighth in the world rankings, which is a major boost after a very disappointing Euro 2013 tournament where they finished bottom of their group and made an unexpectedly early exit.
The FA decided change was needed and after 15 years in charge Hope Powell was sacked. Four months later Mark Sampson was appointed and after a successful spell at Bristol Academy the 31-year-old was entrusted with the task of guiding England into the next chapter.
Change
Mark will work closely with the national coaches at St George's Park to improve England teams at all levels and support the players pathway up to the senior women's team.
He told Sportswomen that he has regular coaches meetings and that, while he hasn't yet called on senior men's manager Roy Hodgson for advice, that his door is always open - "He has given me that option".
Sampson has regular coaching meetings with Hodgson, Dan Ashworth the FA's Director of Elite Development, Under-21 boss Gareth Southgate and Sir Trevor Brooking.
"It's nice, we get the opportunity to meet as a group of national coaches on a regular basis with Dan, Gareth and Roy," Sampson told the show.
"It shows how far the women's game has come to have that amount of respect shown from the men's side that we get the chance to do that."
While Hodgson has made his own changes and settled into the job with a good sense of team spirit, Sampson also told us about the importance of changes he's made to his set-up.
"We're trying to create an environment that the girls can come into and express themselves, trying to put as many measures in place to make that happen.
"It is important that you have a good, fine balance between work and rest, enjoyment and hard graft.
"We want them to spend time together as a team, foster a good strong team spirit and ethic and make some positive steps," - which Mark and his team do over regular coffee mornings and during team bonding sessions.
Progress
It is definitely paying off. Sampson's first game in charge was a 9-0 thrashing of Montenegro - the Three Lions' biggest win since October 2005.
They have now won all five qualifiers to date, scoring 29 goals without reply, which means they sit top of the qualifying group with second-placed Ukraine the next challenge.
Sampson tells us about the importance of a winning mentality, stressing that whilst the objective is to qualify and inspire people he essentially wants to win.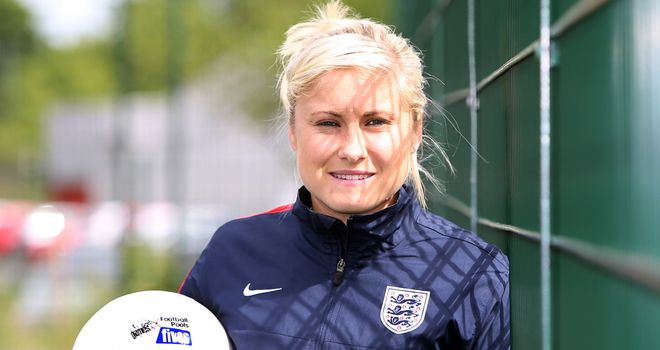 Fresh
As England gear towards the World Cup in Canada in 2015, there's a new captain in 25-year-old Steph Houghton who Sampson describes as '"fresh, talented and enthusiastic".
He felt that a change was needed with a new face for a new era moving forward. Houghton takes the captaincy from the experienced Casey Stoney and he admits those decisions can be hard to deliver as Stoney was naturally disappointed.
Respect
Moving forward the FA are in a review period which will allow Sampson to make some much-needed changes as the central contracts were in place before the Women's Super League started.
He is keen to be as hands-on as possible both on and off the pitch, dealing with the future of the game, youth development and changes in payment relating to success and performance.
As for any questions thrown his way about a man taking charge of the women's team, he said: "I think the important thing for the FA was that they felt I was best person for job.
"It epitomises the respect they have for the women's game.
"They wanted to make sure they got best person, I was that person.
"The team is in good hands, there's fantastic work being done to promote women's coaches - there are really strong women's coaches in the game.
"I have Marianne Spacey as my assistant who has potential to go on and be a great coach in the future."
In the very near future things are looking bright and the mood exciting as England look to maintain that 100 per cent record in their group against Ukraine.
Hear more from Sampson on the challenge ahead on Sportswomen , Tuesday 8.30pm on Sky Sports 3 and available ON Demand from midnight.
Tickets are on sale now for England v Ukraine from www.shrewsburytown.com/tickets