Great Britain's Morgan Lake and Dina Asher-Smith have both won gold medals at the World Junior Championships in Oregon.
Lake was delighted after she recorded the highest score in the heptathlon with a personal best of 6,148 points, while Asher-Smith claimed the quickest time to come home first in the 100 metres in 11.23 seconds.
The 17-year-old Lake, who set a new UK youth record in May this year, withdrew from the Commonwealth Games in Glasgow in order to fully focus on this competition and her decision paid off as she recorded the highest ever score by a youth athlete in heptathlon.
She said: "I don't even think it's sunk in yet, I'm so happy. I've wanted it for so long, I haven't really spoken about it with anyone because I didn't want to jinx it.
"In the 800m I was so dead at the end, I'd pushed at 200m to go when maybe I should have gone at 150m or 100m but I was just trying to make the line.
"The world youth record means everything too, it's what I train for so I'm really happy."
Ecstatic
Lake came home ahead of Yorgelis Rodriguez (6,006pts) of Cuba as she denied her rival a second consecutive World Junior Championship, while Holland's Nadine Visser claimed bronze with 5,948 points.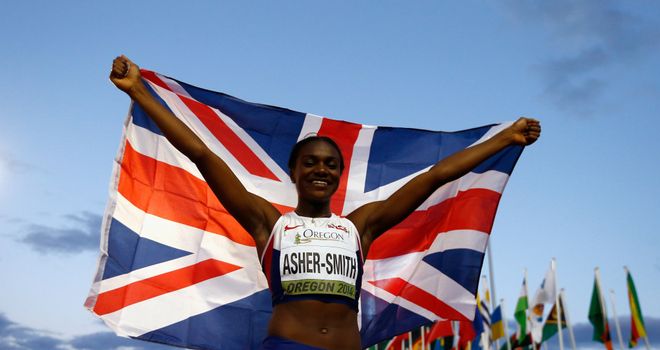 In the 100m, Asher-Smith came home ahead of Ecuador's Angela Tenorio in 11.39secs, with Kaylin Whitney of the United States taking bronze in 11.45.
She said: "I was just thinking about running as fast as I could to get to the line. I'm so happy, I can't believe that I'm world junior champion. So many great people have done it before and it's really humbling to be among them.
"I was ecstatic; I don't normally celebrate but I just threw my arms in the air and I'm completely over the moon. I've worked really hard for it for such a long time and to be able to fulfil what I really wanted to do is amazing.
"I think my start and drive phase wasn't as good as earlier in the competition but this was a final and my aim was just to get to the line first so I'm not too fussed about that. I could have ran a better race I think but I'm happy that I crossed the line first.
"I tried to focus on myself and make sure I didn't see anybody else.
"Going through the rounds running well and feeling strong definitely bodes well for the final and I just tried to carry that through to the final and translate it to a good result which is what I managed to do so I'm really happy."