WWE Raw: Dean Ambrose loses title - but warns Roman Reigns
Kevin Owens becomes Intercontinental Champion for second time
Last Updated: 16/02/16 2:34pm
Dean Ambrose was the focal point of Monday Night Raw after losing the Intercontinental Championship but sending out a clear message to Roman Reigns.
The Lunatic Fringe - who will battle Reigns and Brock Lesnar at Fastlane on Sunday evening for the right to fight WWE World Heavyweight Champion Triple H at WrestleMania - shipped his belt to Kevin Owens during a Fatal Five-Way that also included Tyler Breeze, Stardust and Dolph Ziggler.
CLICK HERE TO ORDER WWE FASTLANE
But Ambrose regained momentum later in the show when, after helping former Shield stablemate Reigns fend off an attack from the Dudley Boyz, he proved it will be every man for himself at Fastlane when he tried to strike his friend with Dirty Deeds.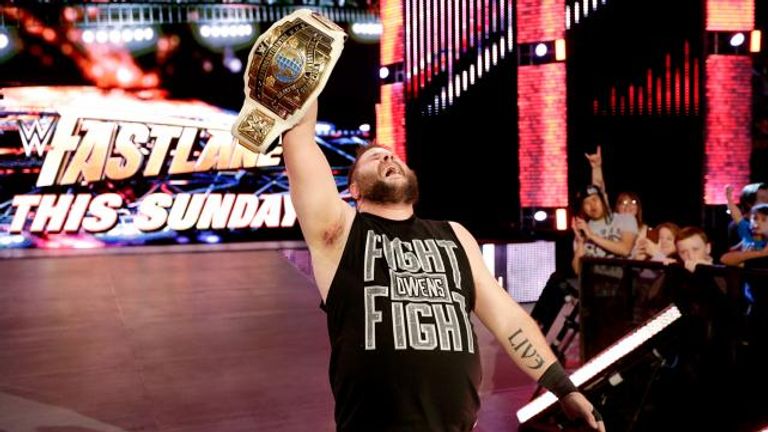 Owens, meanwhile, pinned Breeze following a Pop-Up Powerbomb to claim the Intercontinental Title for the second time, on a night where there were also victories for Big E over Mark Henry, AJ Styles over The Miz and Heath Slater over Zack Ryder.
Braun Strowman's encounter with Big Show descended into chaos, with Ryback rushing to the ring and Kane emerging from beneath it to help Show after he was swarmed by Strowman's Wyatt Family colleagues, Bray Wyatt, Luke Harper and Erick Rowan.
Elsewhere, Divas Champion Charlotte was peppered with "Yes!" kicks by Brie Bella after making disparaging remarks about her Fastlane opponent's husband Daniel Bryan, while Becky Lynch submitted Naomi and Summer Rae pinned Paige.
Plus, Sheamus was victorious on his return from injury when teaming up with League of Nations allies Rusev and Alberto Del Rio to beat The Lucha Dragons and Neville.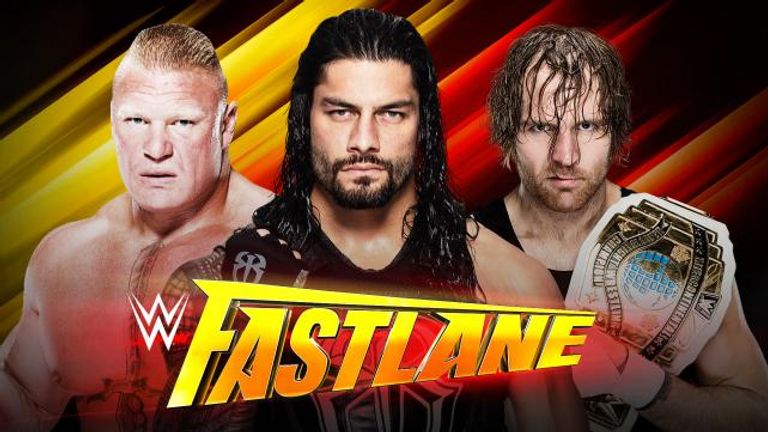 WWE Fastlane booking details
WWE Fastlane will be shown on Sky Sports Box Office (channel 491) and Sky Sports HD Box Office (channel 492) at 1am on Sunday, February 21.
WWE Fastlane will be repeated on Sky Sports Box Office (channel 491) but NOT Sky Sports HD Box Office (channel 492) between 9am, Monday, February 22 and 9pm, Tuesday, February 23.
Repeat showings will last for three hours, with the final showing STARTING at 9pm on Tuesday, February 23.
The event is priced at £14.95 for UK customers, €21.95 for viewers in the Republic of Ireland.
Viewers can call 03442 410 888 to book WWE Fastlane from Tuesday, February 9. (There may be an additional charge for telephone bookings).
You can also book WWE Fastlane online by visiting this link: https://my.sky.com/orderboxoffice/?DCMP=bac-SS.com_Fastlane
Only bookings via Sky TV remote are recordable using Sky Plus.
Sky TV residential customers only. Commercial customers contact Sky for price and to order. Sky Box Office terms apply. 
Cable customers should contact their local cable operator.