Commonwealth Games: Mo Farah focused on marathon and unsure on Glasgow participation
Mo Farah is focused on the London Marathon next year and is unsure if he will also compete at the Commonwealth Games.
Last Updated: 15/10/13 4:18pm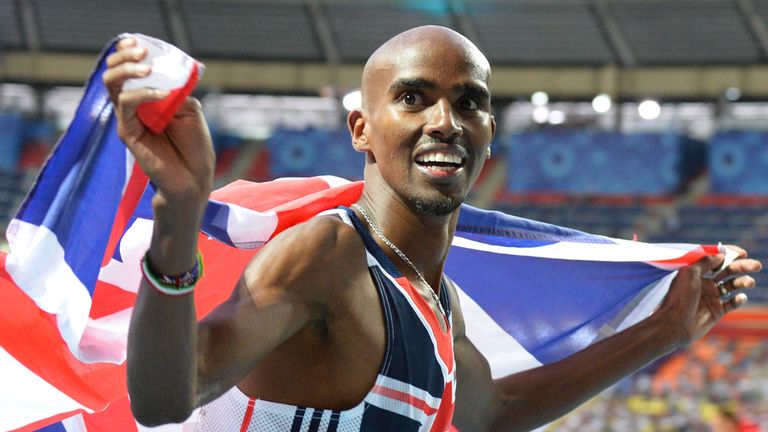 The double world and Olympic gold medallist also confirmed that a race with sprint king Usain Bolt is still a possibility but when the clash may take place remains up in the air.
Having just returned to training, Farah confirmed he is now focused on making the step up from the 10,000m to the marathon in time for the London event next spring.
"I've had a break and just started back running now," he said. "My main aim is to do the London Marathon and see what I can do."
The major athletics tournaments in 2014 are the Commonwealth Games in Glasgow as well as the European Championships, but Farah will make a late decision over whether to compete with his decision depending on how his marathon exploits turn out.
"I don't even know if I'm going to do it, the Commonwealths or the Europeans," said Farah. "It all depends how I come off the marathon, it's totally different from the track."
Unsure
The Somalia-born 30-year-old was also unsure whether he will opt to defend his Olympic 5,000m and 10,000m titles in Rio in 2016.
"It's way too far (away) at the minute, to think about it," added Farah.
"As an athlete you just have to take it one year at a time and focus each year. Then after that, the next year. Rio's still way ahead so I'm not even thinking about at all. But the Olympics, it's the big one."
Farah insists that he would still be keen to take on Usain Bolt in race for charity. However, the long-distance runner was unable to give a date for when the pair could face-off.
"I don't know, we're still working on that," he said. "Hopefully it will happen at some point. It would be good for charity but I don't know if it will happen in one year, two years or whenever.
"It's just something I said out of the blue - 'it would be great to do it for charity!' And now it's gone worldwide.
"It's something that's very close to my heart, the charities, and obviously he's got his own charity, I've got my own and it would be great to do something for the kids, for the people."