BBL Championship Play-Offs final: Worcester Wolves beat Newcastle Eagles 90-78
Worcester Wolves beat Newcastle Eagles 90-78 in a thrilling final to become the BBL Championship Play-Off winners.
Last Updated: 11/05/14 7:51pm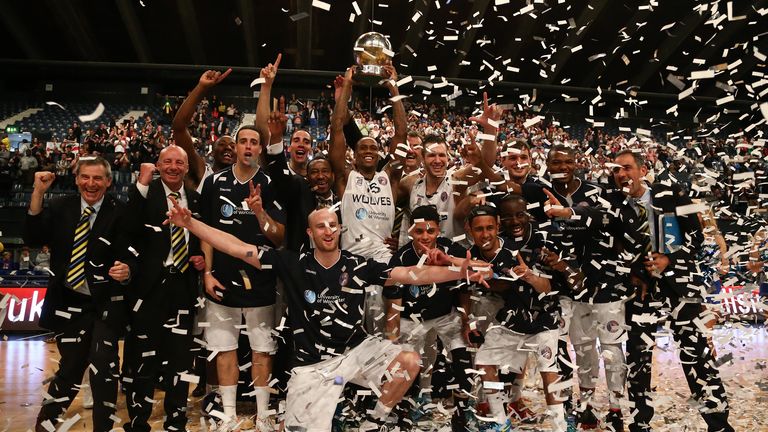 A decisive third quarter burst by the BBL Trophy holders gave them enough of a lead to hold off the league title winning Eagles in the final period.
Zaire Taylor added the final MVP award to his regular season one with a brilliant personal performance of 30 points, nine assists, six rebounds and four steals.
Darius Defoe led the Eagles scoring with 22 points while Taylor was supported in his efforts by 14 points each from Will Creekmore, Kalil Irving and Jamal Williams.
An and-one from Darius Defoe was the perfect start for the Eagles as they quickly raced into a 6-2 lead on a Drew Lasker three.
However, a 5-0 Wolves burst gave them their first lead of the match and Paul James' team went on to dominate the opening quarter to finish 29-15 on top.
Eagles, as befits the champions of the regular season, fought back in the second quarter, cutting the deficit to 37-33 with an 18-8 run.
Kai Williams stopped the rot for Wolves with a three but a Charles Smith dunk began another Eagles surge to make it a one point game at 41-40.
However, Taylor's buzzer-beating three pulled his team 48-42 clear at half time.
Within two
After the re-start, Newcastle got within two at 48-46 and seemed likely to take control with Creekmore picking up his third foul.
But the Wolves responded superbly, with a decisive burst moving them 67-46 in front with 2.51 remaining in the period.
After a two by the Eagles, Taylor's three made it 70-48 and despite Newcastle ending the quarter back within 20 at 72-52, there was little hope of a recovery.
However, the Eagles cut the gap to 75-61 and then Smith reduced the deficit to single digits at 82-73 with 4.27 to play.
But Taylor wasn't to be denied as he made it 84-73 and the Wolves then saw out the win.