Daniel Routledge reflects on Newcastle's rocky road to the Cup Final
Daniel Routledge nearly came a cropper as Plymouth faced Newcastle in the BBL Cup semi-final.
Last Updated: 07/12/12 1:18pm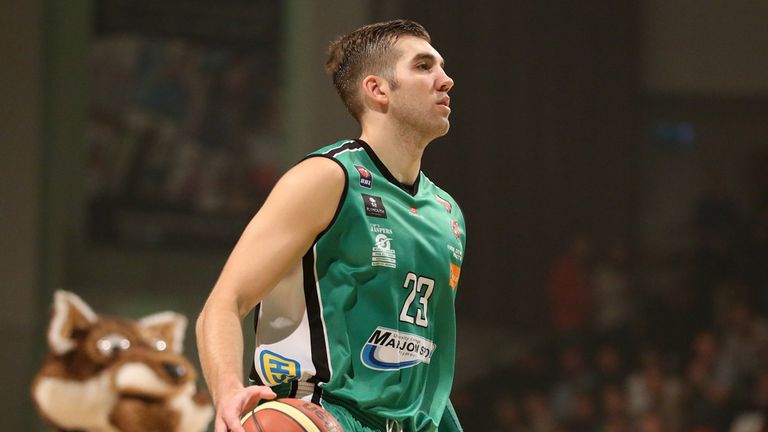 There are many ways to enjoy BBL basketball, but I can confirm that watching statcast on someone else's phone whilst they laugh at you for saying something silly, is definitely not one of them.
After commentating on the Sheffield-Leicester semi-final, the Riders' GM Russell Levenston came up to me waving his phone: "Have you seen the score in Newcastle? Plymouth are up 17 with two minutes to play!"
It took me a second or two to digest it. The tie was level on aggregate and in this column last week I'd said if Newcastle give up a 17-point first leg lead at Sports Central, then I'd dunk over Foxy off the trampette when I go down to the Pavilions next week.
Of course I got little sympathy from Russell or Riders' assistant Phil Gleadell, who both found the prospect hilarious and were openly rooting for the Raiders just to make it happen.
Russell even suggested that I should do it at the Cup Final as part of the half-time entertainment instead. Fortunately for me, the Eagles managed to pull out the win, but not before the Raiders had taken the tie into overtime.
Shock
In my defence, who out there actually thought the Eagles would lose by 17 points at home? I could be wrong, but I don't think they've lost by that many on their own floor in almost six years.
Credit to Matt Schneck who had a monster double-double of 28 points and 16 rebounds and Colin O'Reilly also came up big for Plymouth. And with Jeremy Bell making some clutch shots down the stretch, they were agonisingly close to making me regret my throw-away comment.
They started the season a little slowly, but the Raiders are beginning to look like the team we thought they were.
It will be interesting to see how Newcastle react to what was, even though they reached the Cup final, still a loss at home, their second of the season now. I'll get a chance to see firsthand as our Sky Sports game this week pits the Eagles and Raiders together again, this time in the championship.
These two teams have been vying for honours over the last couple of seasons, so it's weird to see their last eight games have ended with winning margins one way or the other by 17 (40 minutes), 17, 16, 9, 9, 9, 21 and 23. That's a lot of blow outs for two seemingly evenly matched teams.
Let's hope this weekend's encounter is a close one!
Travels
It's an interesting weekend for the champions, they stop off at Worcester on the way to Plymouth to meet a Wolves sides rejuvenated by finally having Sherrad Prezzie-Blue back in the line-up, as well as signing ex-Cheshire forward Kai Williams.
Worcester is always a tough place to play and there is no doubt those two guys will make them better as they look for that all-important consistency. Whether that is enough to beat the champions at this early stage remains to be seen.
Away from the league action, we'll find out who Newcastle will play at the National Indoor Arena on January 13th as Leicester and Sheffield finish off their Cup semi-final match-up with the second leg at John Sandford.
Of course the Riders go into the home leg with a 20-point cushion after last week's victory in Sheffield so will start as massive favourites.
In fact, I'd go as far to say if Leicester give up a 20-point lead at John Sandford then I'll....... applaud Atiba Lyons and his team for a remarkable comeback. See? I've learnt my lesson!!!