Daniel Routledge looks at UK Sport's decision to wipe out the entire funding programme for basketball
Daniel Routledge looks at UK Sport's decision to wipe out the entire funding programme for basketball.
Last Updated: 20/12/12 4:53pm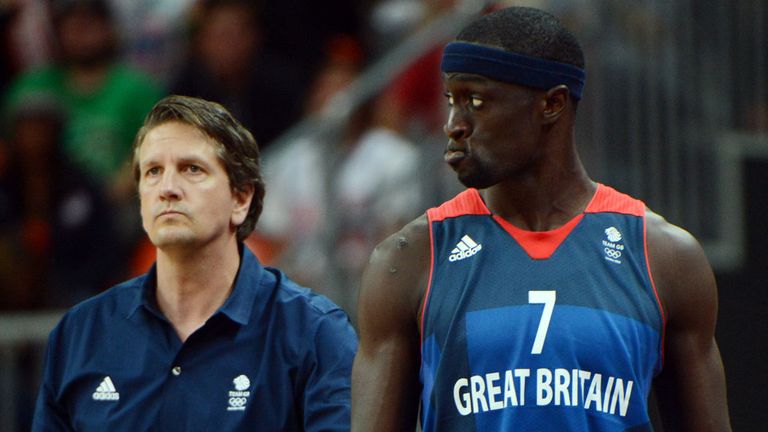 The news that UK Sport wiped out the entire funding programme for the GB national teams caught me by surprise. Don't get me wrong, I expected them to cut it, but not to zero.
It kind of makes you wonder what the point of the last six years was. Was it really just about selling tickets in the Basketball Arena and the NGA for a couple of weeks in August? If so, then GB chairman Roger Moreland's assertion that it was "a waste" is probably spot on.
Chance
"Basketball teams are expensive," said the Minister for Sport, Hugh Robertson. "If they have no chance of qualifying for Rio, would you want to fund them and then take the money away from a cyclist or rower who has a good chance of getting a medal?"
No chance? Last time I checked we had a chance, a slim chance maybe, but a chance nonetheless. Six years ago we had no chance, now we have a slim chance. That's progress in a global game.
Reducing the funding to zero means slim just left town and we are left, once again, with no chance. For a start, who is going to pay the insurance premiums to cover the likes of Luol Deng or Joel Freeland playing in EuroBasket next summer? Anyone? No-one? Let the downward spiral begin. The Minister's prophecy is a self-fulfilling one.
Much has been made of the rise in funding of rowing, at £32.6m the best funded sport of them all. Now, other than it looks like outrageously hard work, I don't know much about rowing, but I had a look at the international governing body's website and there appears to be about 40,000 competitive rowers in the world.
To contextualise, that's roughly as many people as play basketball in the US college system each year. I'm no mathematician, but I'd like the odds of being one of 40,000 going for 42 Olympic medals. It surely beats my chances of winning one of the six on offer for basketball, given my team would have to be amongst the very elite in my own continent just to qualify for the Olympics, never mind win a medal.
Pinnacle
Before the decision was made, I heard a very cogent argument made by Richard Callicott, President of Volleyball England and a former Chief Executive of UK Sport, about how team sports at the elite level should be funded differently to individuals. It fell on deaf ears to his successor as volleyball had its funding virtually wiped out.
I'm not claiming that the journey over the last six years was a smooth one, or that those in charge of the national teams were doing everything right. I've ranted about them before, I'm not going to repeat that now, but on the court we were starting to get it right. You could even make the argument that we were just a couple of shots (or defensive rebounds?) from making the quarter-finals in both the men's and women's competition.
Just think about that for a second. A bounce or two of the ball away from the quarter-finals. Of the Olympics. Both men and women. Is that really the difference between £8.6 million and nothing?
The Olympics is still the pinnacle of basketball, maybe not as democratic as the Basketball World Cup, as the World Championships have now been rebranded, but to the outside world it is the most celebrated event.
We were within a break or two (or a disastrous second half against Australia) from reaching the last eight of the major tournament. For £8.6m.
Participation
Callicott is right, team sports are different. You can get an exceptional person in any individual sport who can conquer the world, a Mo Farah or Jessica Ennis if you like. In a team game you'll need at least seven or eight of them at the same time to have any such chance. And even then, you might not get a medal. Heck if you happen to be a basketball team based in Europe, you might not even qualify such is the strength in depth - remember the Bronze medallists Russia nearly didn't make it to London.
Just ask any England football fan how difficult it is to conquer the world, for that is the only other team sport with the global reach that basketball has. And they have all the resources in the world to throw at it. British basketball had £8.6m.
But my argument is not really team v individual. It's about participation. Not kids or old blokes like me who lope up and down a court once a week pretending we've still got it, even though we never actually had it. That's Sport England's domain and I've not got the energy to go through their decision this week.
I'm talking about professionals playing in professional leagues. I'm talking about countries playing at the elite level and playing each other regularly, not padding your World Cups with some makeweights you only see every four years like you get in cricket or rugby.
Look at the structure of a sport, at how hard it is to win and ask yourself, do we really want to? If the answer is yes, then you have to fund it accordingly and for as long as it takes, there is no quick win, there is no miracle cure, only a long hard slog to the top.
Legacy
Funding for medals is, in part, about how hard it is to win one. Athletics, for example, is a pretty democratic sport, almost every country does it, so medals are hard to come by, even allowing for the fact there are 140-odd on offer in the Olympics. But there are sports out there, sports that UK Sport does fund, that are globally insignificant and therefore there is less competition for medals.
That's not to downplay the achievement; anyone who wins an Olympic medal will have walked a long hard road to the top. They all deserve lauding, but some will have had more people to pass on that road than others.
It's hard to pick a winner in the Grand National, with its long, tough course and 40 entries, much easier to back a winner in a three horse race on a Tuesday afternoon at Beverley. Both are winners, but are they really equal?
And that is the perverse incentive of a 'no compromise' approach.
But hey, we'll win medals and that's all that matters right?
So maybe I'm wrong or maybe I'm just a natural-born cynic, but in the cold, dark depths of midwinter, it feels to me like all the talk was just froth, just to sell some tickets for two glorious weeks of summer sun. Not much legacy in that, is there?
Aside from that - let me finish on a happy note by wishing you all a Merry Christmas!