Durham's BBL resurgence is giving play-off race extra spice, says Daniel Routledge
Durham's resurgence is giving the race for the BBL play-off places extra spice, says Daniel Routledge.
Last Updated: 01/02/13 8:39am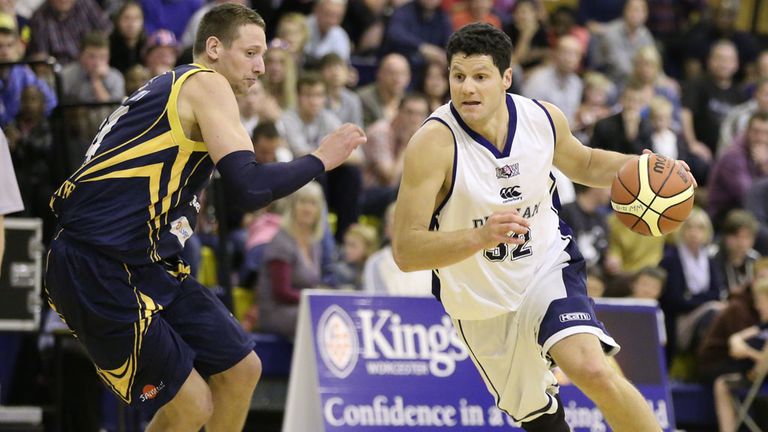 In the BBL, however, it certainly has been a time of celebration for those of a Wildcat persuasion, with Dave Elderkin's Durham squad in impressive recent form as they look to press towards the play-off places.
I had the fortune of witnessing what was probably the high-water mark of Wildcats' BBL journey so far after 18 months in the top flight. Their victory at Plymouth, who many, myself included, were predicting to challenge for the title and still look an odds-on bet for the top four, was certainly impressive.
Sometimes a team near the bottom of the table can fluke a win against a leading side, but this was not such an occasion. Durham were excellent and thoroughly deserved their victory.
Afterwards Plymouth boss Gavin Love was his usual honest self in his assessment of his team, but he also praised the Wildcats and rightly so. Not too many sides would have beaten Durham in that form.
Brad Guinane was sensational from behind the arc, but Keith Page was also excellent as were Andrew Keister and Ralph Bucci, it was a great team performance.
Bucci was just shy of another triple-double and based on that performance you can see why he won the Player of the Month award for the second month in a row this week, he did what his team needed when his team needed it.
Boost
Twenty four hours later it was Mike Balderelli doing the damage from behind the arc as they won in Cheshire to reignite their play-off aspirations, it will be interesting to see if they can maintain that level of performance for a third consecutive away game at Sheffield on Friday.
If they do, then it could move them above the play-off line which doubtless will be a psychological boost.
Perhaps what was most impressive was the manner of their victory, they were much more aggressive at the offensive end than I have seen them before. The scouting report of the Wildcats has traditionally been about a team who are patient and keep the score low, but they showed how well they can score and it certainly caught Plymouth off guard.
The best way of demonstrating this is with the points differential compared to the last meeting between these sides. That too was a televised game, up in Newton Aycliffe, Plymouth won that game by 45 points, but there was a stunning 62 point turn around in the Wildcats 98-81 victory.
It was nice to catch-up with Rod Brown, who recently returned to the BBL after an eight-year sojourn on the continent, before the game. Rod looks every bit the player he did in his first spell in the league, but I still struggle with calling him a veteran as he hasn't changed a bit from the young rookie I remember from the turn of the century.
Durham's resurgence is just the latest in a run of those teams on the brink of the play-offs. Sheffield have won four of their last six, Cheshire look in decent form too and I saw Manchester play really well the week before last as well.
All in all it promises in being a right royal battle for play-off places, as things stands it looks like any two of five for the last couple of post-season berths, but those teams above them in the table want to be wary of being hauled back towards that chasing pack.