Sheffield can expect a real test of their play-off credentials in Loughborough, says Daniel Routledge
Sheffield can expect a test of their play-off credentials in Loughborough, says Daniel Routledge.
Last Updated: 08/02/13 1:04pm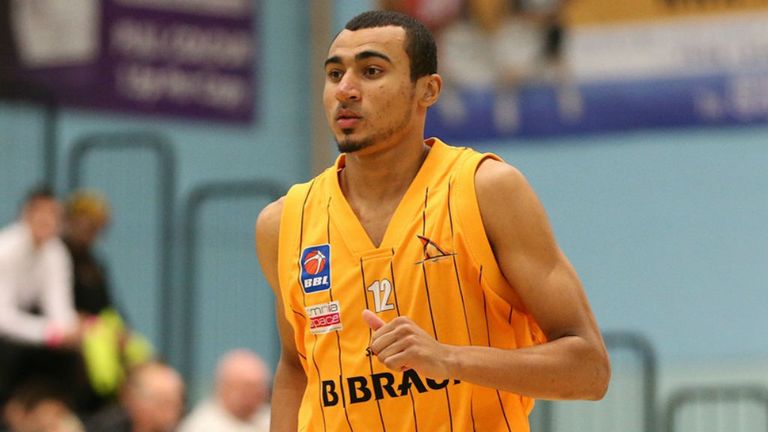 As things stand, it would appear to be a five-way scrap for only two play-off berths, and that assumes that neither Glasgow nor Worcester gets hauled back into the dog-fight.
With their talent, I think the Wolves and Rocks should have enough of a lead over the chasing pack not to get dragged down into that scramble, but it is anyone's guess who is going to get the seventh and eighth play-off places.
Cushion
Sheffield currently head the pack thanks to five wins in their last seven games, albeit one of those was a trophy quarter-final.
I always look at the loss column when I'm looking at the table and that puts the Sharks two or three games above their rivals in the race for the post-season, which is a nice cushion to have.
In points terms, they are level with London and two clear of Cheshire, Manchester and Durham, with those three currently below the line.
The Sharks face a real test of their credentials in Loughborough on Sunday. The last time I saw the Sharks in the flesh was their 50-point aggregate loss to the Riders in the cup semi-final and they travel to the Midlands this week.
I liked the look of BJ Holmes when I first saw him and there's no doubt he's been a key factor in their revival, but there is no doubt they have plenty of offensive weapons.
Watching the tape of their comprehensive win over Durham last week, Micah Williams was in great form and the likes of Demetrius Jemison, Mike Tuck and Olu Babalola are also more than capable of putting a big number on the board. They will need all of those guys to have a good game if they are to break down Leicester's stingy defence.
Consistency
When I'm concentrating on Sheffield it's quite easy for me to think they must surely be a frontrunner in the play-off race, but when I saw Durham a couple of weeks ago I was thinking something similar about them.
And when I saw Manchester at their best the week before that I was thinking they have a great chance as well. And then actually I've thought Cheshire might be able to cover their lack of depth at various points as well, and well London have looked pretty decent every time I've seen them this season too. It's all just too hard to call.
The Achilles heel all of these teams have displayed at various points this season has been consistency, they've all had spells but none have been able to sustain that for multiple games.
Sheffield's recent form has shown they are more than capable of beating their rivals and that may well be enough for them to get to the post-season, but I wouldn't rule out any of those sides just yet.
Optimistic
Having touched upon the funding decisions in recent weeks, it would be remiss of me not comment on last week's UK Sport decision to reinstate the funding for the GB national teams.
It's been caveated by the statement it is initially only for a year, but I can't help but feel that they have realised the error of cutting the funding to zero in the first place and that some sort of funding will be available all the way through the Rio cycle.
For me this has never really been about only the elite level, this has been about a sport that, by any metric, has been massively underfunded at all levels since, well, forever.
So my excitement came when I spoke to a British Basketball Union representative who told me as part of the agreement UK Sport and Sport England will sit down with the sport to discuss how it is funded from grassroots all the way to the elite level.
On the back of the recent Adjournment Debate in the House of Commons it would seem that the decision-makers are now starting to wake up to their own data on the almost unrivalled reach our game has in this country, particularly amongst the key age, ethnic and socio-economic groups that Governments are so keen to engage in physical activity.
There is still a way to go and the sport still has plenty to prove, but I am starting to feel optimistic about the future.