Daniel Routledge blogs on the latest twists in the race for the BBL title
Daniel Routledge blogs on the latest twists in the race for the BBL title as Leicester ease clear.
Last Updated: 19/02/13 8:45am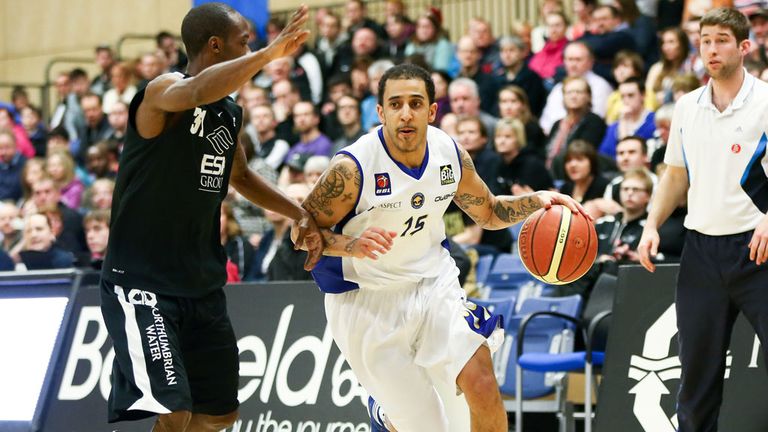 Cheshire Phoenix have had a turbulent season, but their win on Tyneside will undoubtedly have been a highlight, particularly as they trailed by six with a few of minutes to play.
Gabe Haskins came up with a couple of crucial steals down the stretch, including knocking the ball away from Joe Chapman in the final seconds which allowed Chez Marks to race back down court and lay-in the winning shot.
Interestingly Marks' lay-up actually bobbled in and that bounce wasted a second and ensured the buzzer sounded as it went through the hoop so Newcastle had no chance to reply.
History
Twenty-four hours later Leicester beat Manchester at home to set an impressive club record. The win means that by next Monday they will have completed an entire year without losing at home.
They become only the fifth team in the history of the BBL to achieve the feat, although I can't see them catching Kingston who hold the longest run of just over two years without a domestic defeat at home.
The 'Nix almost capped a stunning double on Sunday when they led the Riders by 12 in the second half, but Leicester responded to win by nine in the end to make sure they have a two-point lead at the top of the table.
I love a good stat and I saw one that absolutely blew me away in relation to the Riders' win over the Giants. It was the fourth home game in a row that Leicester had held their opponents under 60 points. Apparently they have only managed to keep their opponents to such a low number 24 times in 700-odd home games in their history, but six of them have come in the last eight home games!
It takes a little digesting, but that is some stat and it is little wonder they are top of the league. If you only need to score 60 points to win, you won't lose too many that's for sure.
Riders are currently on pace to post the lowest points against per game average in the history of the BBL, although they are only narrowly ahead of Sheffield's 67.89 papg average from 1994/95 which is the best ever mark. The Sharks are the only team to have managed to average less than 70 against per game for an entire season and they did it twice in consecutive campaigns in the mid-90s.
Epic
A friend of mine suggested to me that Leicester are only two home wins from their first ever league title, his logic being if they beat Newcastle twice, they are unlikely to lose at least four of their other ten league games which they would have to do as a minimum if the Eagles are to go past them in that scenario.
It was funny to hear that contrasting view as earlier in the day I had spoken to Rob Paternostro who was talking about how many games double-header weekends and midweek games they have left and how hard the run-in was going to be. Good luck in convincing Rob of that logic!
If I can be selfish for a moment, the highlight of my career as a commentator came on 2 April 1999 when Terrell Myers hit a league-winning shot for Sheffield against title rivals Manchester on the buzzer of the final game of the season.
A quick look at the schedule and guess what the final game of this season is? Leicester v Newcastle at Loughborough University. If this year's title could come down to a winner-take-all finale, I certainly wouldn't mind a repeat of that epic 1999 showdown.
Whilst Leicester were setting an impressive record over the weekend, Mersey were writing themselves into the record books for something they'd really rather not. At 0-23, they've matched London Docklands start to the 1989/90 season, the longest run to begin a season without a win.
Docklands won their 24th game, which in those days happened to be their last of the campaign, when they won their final game of the season in overtime!
I've convinced myself that Mersey's first win of the campaign is just around the corner, based on what I call the 'law of 30'. Mersey have lost 26 in a row, including one game at the end of the last season, with the BBL record standing at 30 consecutive defeats.
Now that's a record that nobody wants and amazingly no one team has it. Five teams in fact share it, all five managed to win game 31.
My reckoning is that it is a record that no one team should be saddled with, so that's why hitherto they have shared it, hence my law of 30. So Mersey will win within the next five games, you heard it here first!